Images: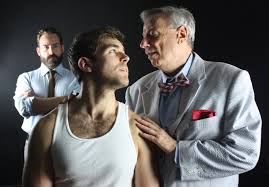 Review:
It's true that Tennessee Williams was a writer-in-residence at Vancouver's University of British Columbia in the autumn of 1980, and that one of his plays was produced in that city at this time. It's also true that the author, whose early work is now enshrined among the classics of the 20th century, found his creative energies waning in his later years. From these facts, Canadian author Daniel MacIvor has forged a multidimensional portrait—part biographical fantasy, part homage and part contemplation—of an artist whose muse may have abandoned him.
His Greatness begins with the character identified in the playbill only as "Assistant" informing us that this will be a memory play—yes, exactly like Tom Wingfield in The Glass Menagerie—and that he has selected for his reminiscence the events surrounding the fatal production's opening night. These commence with the writer he calls simply "Playwright" awakening to a hangover requiring whiskey, his inhaler, and a hired escort on his arm at the evening's gala. The candidate for the job—designated "Young Man"—has never heard of his famous employer, but savvy playgoers know that in Tennessee Williams's universe, handsome virile hustlers are never merely decorative.
For that matter, neither are loyal disciples resigned to a life of subjugation at the behest of aged caesars raging against the dying of the light. The subjective narrator in MacIvor's speculative tale may describe Young Man's seduction under the lavish attentions of Playwright—abetted selflessly by the Assistant—but how are we to gauge the truth of the dynamic suggested thereby? Is Playwright deliberately taunting Assistant with the prospect of being replaced by a newer model? Is Young Man's enthusiasm for his persona genuine or opportunistic? Is Assistant's harsh assessment of his boss an assertion of power over the latter, or a last volley fired before surrender and flight?
This is a lot of ambiguity for actors to convey (did I mention Playwright's propensity for outbursts of lyrical poetry?), but David Zak's deftly intuitive direction ensures the realization of every nuance in MacIvor's delicately romantic dialogue. Danne W. Taylor endows Playwright with a leonine dignity always visible beneath the dissipation, as does Whitman Johnson as the Young Man in pursuit of adventure, while Andrew Kain Miller delivers a beguilingly understated performance as the Assistant facing the end of one long distance and, maybe, the start of another.
Miscellaneous:
This review first appeared in Windy City Times, 11/17