Images: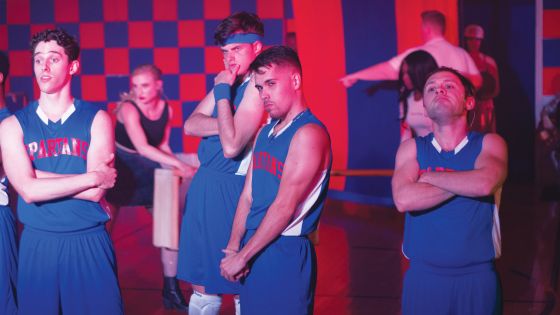 Theater Address:
1212 West Balmoral Avenue
Review:
Scholarly playgoers scrambling to retrieve their SparksNotes will be relieved to learn that all that's left of Aristophanes's much-tweaked comedy in this musical romp is the launching device of women initiating a moratorium on sex.
This adaptive conceit enables book author Douglas Carter Beane and composer-lyricist Lewis Flinn to bypass the difficulties of transposing the literary context from 411 B.C. to 2010. Protocol for making war may not have changed much over 25 centuries, but that for making love certainly has — sometimes as recently as yesterday.
Our play is set in and around Athens University, where the Spartans have lost every basketball game for 30 years. In vain do the varsity players' girlfriends cheer on their swains, until Lysistrata Jones, the captain's consort, determines that the only solution to the curse of the sports gods lies in a regimen of enforced chastity. With the ladies of Athens U. refusing to "give it up" until a victory on the courts is achieved, both factions discover hitherto-overlooked attractions based in ( gasp! ) platonic affinities. Even Lyssie herself comes to recognize the reasons behind her obsession with, well, coming out on top for once in her life.
This is merely a pretext for exploration of familiar themes reflecting youthful uncertainty and confusion, of course. We are not surprised when the glamour girl succumbs to the team mascot's nerdy charms, or the stud recites poetry in duet with the brainy slammer-chick and — since this is Beane writing — a pair of hoopsters bond in, um, brotherhood.
Providing narration and deus ex machine is Hetaira — aka proprietess of the Eros Motor Lodge — who ensures that the foolish youngsters never stray far from the path of true you-know-what.
There's no denying the plot's frivolous stakes, but the Refuge Theater Project has cultivated a reputation for generating oodles of excitement from little more than thin air and adrenalin—assisted, in this case, by site-specific staging in a church gymnasium acoustically designed for amplification, if not articulation, and a four-piece band giving the impression of playing everything in double-time. For all its puppyish exuberance, however, by the time that the most deserving of Aphrodite's disciples scores the winning point in an actual tournament-grade hoop, we are having too much fun to quibble over trifling pedantry.