Images: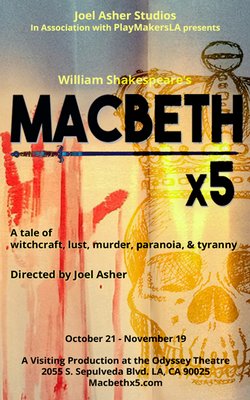 Company/Producers:
Joel Asher Studios/PlayMakerLA
Theater Address:
2055 South Sepulveda Boulevard
Review:
Watching Macbeth x 5, Joel Asher's abbreviated version of Shakespeare's classic drama, I couldn't help but wonder what The Bard would have made of the production. Would he have objected to the way Asher had cut his sprawling, complex story down to ninety minutes, ruthlessly shredding characters and poetry – in effect, trampling on his moral rights as author? Or, practical man of the theater that he was, would he have tipped his hat to Asher in acknowledgment that modern audiences don't have the patience or concentration to sit through longish plays any longer? If alive today, would he be writing for the market himself, keeping everything lean and mean—and under two hours?
That said, there's no doubt that Asher, a veteran Shakespearean director, has done an efficient job in reducing Macbeth to its essentials: the bloody battle for power between Macbeth (Stephen Tyler Howell), Lady Macbeth (Alexandra Wright) and Macduff (Chase Cargill, who also doubles up as Banquo). All three of these excellent actors speak their lines clearly and strongly, making the drama come alive. The other two actors in the cast, Rosie Moss and Nate Ruleaux, contribute admirable performances as well, in a variety of roles (Duncan, Doctor, Witch, etc.)
Asher makes up for the missing text by using physical movement in its place; at times Macbeth x 5 resembles a dance recital as the actors weave their way sinuously around the stage, connecting and disconnecting, creating a strange, dark world together, aided by Christopher Moscatiello's eerie sound design, Bosco Flanagan's shadowy lighting, and Nicholas Santiago's sinister projection designs.
A tip of the hat to costumer Denise Blasor as well; it was a stroke of genius on her part to wrap the three witches in white gauze, turning them into anonymous but believable spectral figures.
Macbeth x 5 might be truncated Shakespeare, but it still packs a surprisingly powerful punch.
Cast:
Chase Cargill, Stephen Tyler Howell, Rosie Moss, Nate Ruleaux, Alexandra Wright
Technical:
Movement: Marisa Moses; Set: John Iacovelli; Lighting: Bosco Flanagan; Sound: Chris Moscatiello; Costumes: Denise Blasor; Projections: Nicholas Santiago; Fight Choreography: Robert Moses; Production Stage Manager: Caroline Morgan