Images: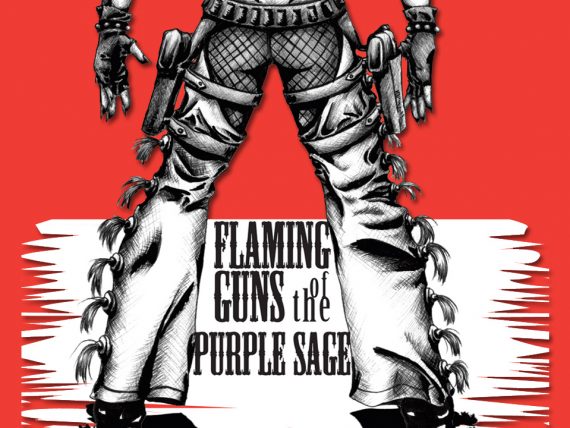 Theater:
Venice Theater - Stage II
Review:
It's a tribute to the dedication to text of director, cast, and tech crew that Venice Theater's production of Jane Martin's silly play isn't vacated by audiences at intermission. In Flaming Guns of the Purple Sage, guns don't flame and nothing's sage. It's an overdone attempt to satirize pop Westerns, gory horror films, and the broad, barely believable characters who populate them. But it becomes itself a satirical target.
Cheryl Andrews is on the mark as Big 8, a former rodeo queen whose aging threw her out of the sport. She runs a home, heavily mortgaged and in trouble, to help hurt cowboys heal. Jimmy Dudding, former award winning cowboy is her current bare-butt charge, who pays with love, not money. He's a cute pushover given to falling in love at first sight.
Enter Shedevil (frantic Vera Samuels), pregnant and abandoned by Big 8's unseen son. She's been abused almost all of her young life and—tattooed, pierced, with hair like a "strawberry milkshake"—seems to have wanted to fit in accordingly. She's pursued by Black Dog, frightfully depicted by Mike Campbell of Hell's Angels. He's doomed to be murdered — several times, in fact — at Big 8's busy-being-bloody abode. When he's not in a pool of blood on the kitchen floor, he's stacked up in a closet with a precariously closed door that becomes a fourth door in the set designer's made-for-farcical comings and goings room.
Candace Artrim is Big 8's sweet little sister Shirl, whose talents as a butcher will come in handy. She's able to help all the others with body disposal. Mainly, though, that happens with the help of clueless, sheriff-like Jeff Cima as Baxter, who has regularly but unsuccessfully proposed marriage to Shirl. He's going to "serve justice" and get acceptance.
In a brief appearance, cordial Patrick Tancey as Donnie is destined to solve Big 8's love life problems. And her mortgage solution is also on the horizon symbolically casting a royal purple flame.
It's hard to overdo a farce, but Jane Martin's attempt at it is too complicated to make it easy for the audience to appreciate the play's satirical points, though director Kelly Woodland skillfully tries. This Western is more wild than witty, more Monstrous than mysterious, and overall less of a parody of than it is a real horror show.
Parental:
profanity, partial nudity
Cast:
Cheryl Andrews, Jimmy Dudding, Vera Samuels (reviewed) alternately played by Alison Prouty, Candace Artim, Jeff Cima, Mike Campbell, Patrick Tancey
Technical:
Set: Gabriela Gorka; Lights: Cindy Carruth; Costumes: Francine Smetts; Sound: Dorian Boyd; Stage Mgr: Cilla Boyd