Images: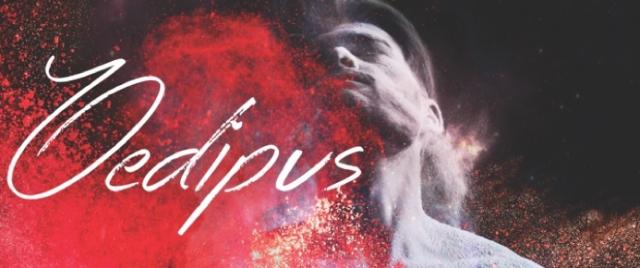 Company/Producers:
Florida State University - Asolo Conservatory
Theater:
Florida State University Center for the Performing Arts - Cook Theater
Review:
Staged on a three-quarter round space, the drama of the flawed King of Thebes has the FSU/Asolo Conservatory's second-year class going mod with the greatest ancient Greek tragedy. The up-to-date wording of the translation and movie-like gates of Thebes' palace attempt to claim the audience's attention and make members an extension of the people of the place. It seems to work for some, but for others, it may seem like an old Dionysian Festival offering that's required attendance.
Like the wording of the translation, the costumes are mainly contemporary, with scuffed jeans predominating on the townspeople and the royalty all done up in evening dress. Is the contrast on purpose? Oedipus's outfit certainly bespeaks his rank, making Andrew Hardaway even more suave than Erik Meixelsperger's Kreon, who's like a high-class messenger boy here.
Lawrence James wears a weird multicolored get-up as Teiresias who looks as if the material around his face would have interfered with his vision even if he were not blind. Luckily, he has an outstanding voice with which to prophesy. Dylan Crow also speaks well later as a Shepherd, though he's distinguished apart from his one-of-the-crowd role in jeans only by donning a ski-type hat.
As the Priest and leader of the Chorus, DeAnna Wright wears a veil and dress (but with holes in her stockings) that suggest her congregation is some storefront sect. Her followers have outfits full of holes, which detract from the appearance of little Jenny Vallancourt with her big singing voice. Then there's the sleek gold gown on Olivia Osol's gorgeous but stiff Jocasta, which doesn't age her anywhere near Hardaway who's supposed to be her son as well as husband.
Luckily, this Conservatory class seems to have carefully practiced vocalizing. Both the poetry and prose sound as natural as the frequent wind. Director Greg Leaming wisely emphasized speeches because the stage space tends to rather static dramatic as opposed to prosaic movement. The performance's best moments consist of expository accounts. All in all, the actors evidence having learned from their rehearsal experience.
Cast:
DeAnna Wright, Andrew Hardaway, Erik Meixelsperger, Lawrence James, Olivia Osol, Katie Sah, Dylan Crow, Scott Shomaker, Sara Linares, Matt Kresch, Jenny Vallancourt
Technical:
Set: Jeffrey Weber; Lighting: Chris McVicker; Costumes: Sofia Gonzalez; Sound: Alex Pinchin; Original Music: Fabian Obispo; Vocal Coach: Patricia Delorey; Movement: Eliza Ladd; Production Stage Mgr.: Rachel Morris