Images: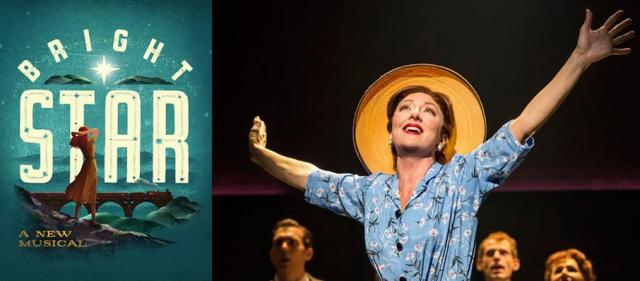 Review:
On a night loud with fiddles and banjos, the bluegrass musical Bright Star dosey-doed its way into the Ahmanson Theater, charming the audience with its folksy good spirits.
First workshopped in New York in 2013, then premiered a year later at the Old Globe in San Diego, Bright Star made it to Broadway in 2016 for a brief run. Now a nifty road company is performing the Steve Martin/Edie Brickell show, with excellent results.
Martin and Brickell have teamed up before (on three albums), sharing a love for country music and humor. Martin, in addition to being a successful comedian and actor, plays a mean banjo; Brickell has been writing rootsy songs since 1988.
Bright Star's story is set in North Carolina, first in 1945-1946, then twenty-two years earlier. Elements of the story are familiar and derivative, beginning with the return of Billy Cane (A.J. Shively) to the family farm after his stint in WW II. After learning that his mother died while he was away fighting the Nazis, Billy says farewell to his hillbilly father (David Atkinson) and takes off for the big city of Asheville where he hopes to make his mark as a writer (a la his idol, Thomas Wolfe).
First stop is the office of the Asheville Southern Journal, a famous literary magazine edited by the redoubtable Alice Murphy (Carmen Cusack, reprising the Broadway role that won her a Tony nomination). Rejected at first by Alice and her gay, wisecracking assistant, Daryl Ames (the hilarious Jeff Blumenkrantz), Billy does manage to form a friendship with Lucy Grant (Kaitlyn Davidson), another of Alice's assistants. She encourages him to keep following his bright star, all the while making plans to get him between the sheets.
We also follow Alice's story, which is much more outlandish than Billy's, dealing as it does with a thwarted love affair, an illegitimate birth, and much sturm und drang.
Much of what happens on stage is on the corny, sentimental side, but thanks to the musical gifts of the cast I was charmed and entertained throughout. Every single voice that rang out was a rich and splendid one. Cusack lights up the stage every time she delivers a line or belts out one of her songs (of which there are ten). Praise must also go to the band which was housed onstage in a portable wooden shack and played with fire and finesse all night. Mustn't forget Josh Rhodes' choreography either, which featured six foot-stompin' dancers, and Walter Bobbie's slick, deft direction.
Bright Star is a musical that wants desperately to be liked; you'd have to be awfully hard-hearted to reject its charms.
Cast:
Carmen Cusack, Stephen Lee Anderson, David Atkinson, Jeff Austin, Maddie Shea Baldwin, Jeff Blumenkrantz, Allison Briner-Dardenne, Patrick Cummings, Kaitlyn Davidson, A.J. Shively
Technical:
Set: Eugene Lee; Costumes: Jane Greenwood; Lighting: Japhy Weideman; Sound: Nevin Steinberg; Hair & Wigs: Tom Watson