Subtitle:
A Play About Comic Genius Dick Gregory
Images: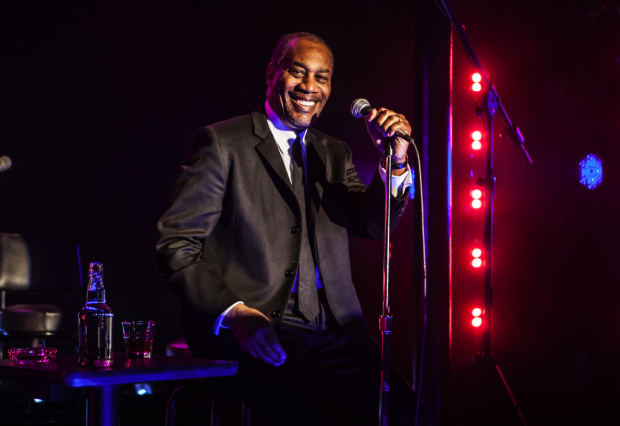 Company/Producers:
Wallis Annenberg Center for the Performing Arts/John Legend
Theater Address:
9390 South Santa Monica Boulevard
Review:
The Lovelace Studio Theater (at the Wallis) serves as a 1961 Playboy Club where the comic Dick Gregory is making one of his appearances. The actor Joe Morton channels Gregory in Turn Me Loose, a solo play which serves as a tribute to the famed performer and activist, who died only a few months ago.
Like Lenny Bruce ("the white Dick Gregory," is one of Morton's lines), Gregory came to prominence in the 1960s and 70s, thanks to his blunt, unvarnished takes on sex, profanity and authority.
But unlike Bruce, whose career was unmoored by drug use (and police brutality). Gregory became a public figure who not only poked fun at bigotry but took part in political and social protests, including Civil Rights marches by Martin Luther King and Medgar Evers. Late in life, Gregory also became a health guru, extolling the benefits of fat- and sugar-free diets.
Gregory, we learn during the course of Morton's stand-up routine, was born in Mississippi ("so far south that if my mother had taken one step backwards, I'd be a Mexican"), where he encountered racism at a young age but defied it by trying out for his high-school's all-white track team. His coach, after shunning him, eventually realized he was the best athlete on the team. "I had fast feet and a fast mouth," Morton/Gregory recalls. "My tongue was my switchblade." The comedian wielded that rapier-like wit for the next sixty years, puncturing stuffed shirts, hate-mongers, hypocrites and zealots all along the way, but also speaking out about black and brown power, the wars in Viet Nam, Iraq and Afghanistan, global warming and poverty. He even poked fun at psychiatrists: "I once went to a shrink and told him all my problems. He's now doing my act in St. Louis."
In a recent interview, President Obama called Gregory one of his two favorite comics. The other was Richard Pryor, who himself said, "Dick Gregory was the greatest, and he was the first."
Morton's vibrant and deeply-felt performance makes you believe him as Gregory. He is aided by John Carlin, who plays a variety of roles, including a fellow-comedian, a heckler, a taxi-driver and others. The well-directed Turn Me Loose also features a song by producer John Legend, "Marching in the Dark." What you mostly remember, though, are Gregory's many biting and brave wisecracks.
Technical:
Set: Chris Barreca; Costumes: Susan Hilferty; Lighting: Stephen Strawbridge; Sound: Leon Rothenberg; Dramaturg: Morgan Jenness