Subtitle:
An Impressive Presentation of Lovely Evidences
Images: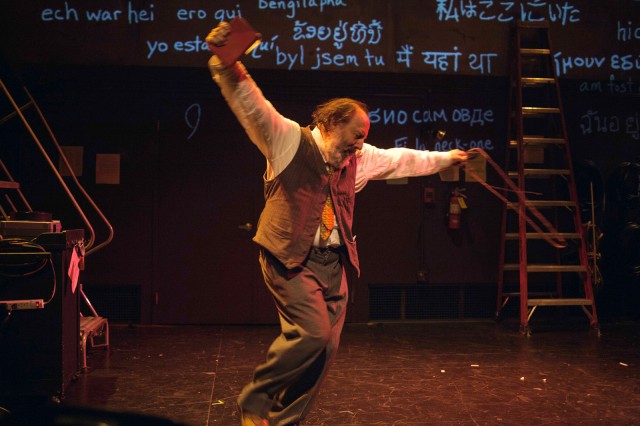 Theater:
Geffen Playhouse - Audrey Skirball Kenis Theater
Review:
Arye Gross delivers a memorable performance in Glen Berger's Underneath the Lintel, a solo drama now in production at the Geffen Playhouse, directed by Steven Robman. The play, which was first done Off-Broadway in 2001, calls for Gross to command the stage while impersonating a Dutch librarian who puts his safe, mundane life behind him when he sets off a personal odyssey to solve a mystery triggered by the sudden return of a long-overdue book. This seemingly foolish and even self-destructive quest—he not only loses his job but his pension because of it—takes on ever-deepening meanings as he journeys from one country after another in pursuit of the elusive book-borrower who, he begins to realize, may have been The Wandering Jew.
The miraculous aspect of the librarian's monologue is limned skillfully by the playwright, who also manages to work earthiness, humor, self-deprecation and anger into the mix. Gross handles all of these changes and surprises with amazing ease, creating a three-dimensional character who can make us think, laugh and even weep as his tragi-comic life is played out before us.
Underneath the Lintel is mostly a play about discovery. The librarian not only discovers the truth about the book-borrower's life but the truth about his own life. Having once thought of himself as an insignificant person, a kind of nebbish, he comes to realize that he does indeed have worth, that he can make himself heard and felt. "I Was Here" becomes his mantra as he picks himself off the ground and marches out to do battle with the world.
Gross's tour de force performance takes place on Se Hyun Oh's crazily cluttered set which is enlivened by Jason H. Thompson's ingenious video interludes. Director Steven Robman keeps everything together in an admirable and masterful way.
Technical:
Set: Se Hyun Oh; Costumes: Leah Piehl; Lighting: Tom Ontiveros; Sound: Cricket S. Myers; Projections: Jason H. Thompson; Dramaturg: Amy Levinson