Images: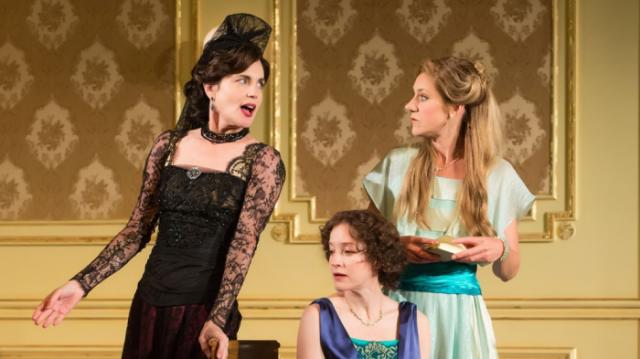 Company/Producers:
Roundabout Theater Company
Theater:
American Airlines Theater
Review:
As the old therapy saying goes, if it ain't one thing, it's your mother. Time and the Conways is about a well-to-do family Yorkshire family in the years bridging the two World Wars. 1919 is full of fun and silliness, a seemingly endless round of charades. In 1937, things are desperate. At the center of it all is mum, played to the hilt by the mesmerizing Elizabeth McGovern, of "Downton Abbey" fame. Only an actress of her caliber can make Mrs. Conway palatable. The audience must start out loving her if any sympathy is to be felt for the shallow, sometimes mean-spirited woman she's revealed to be in the course of the play. To begin with, she's enjoying playing dress up at a house party full of friends. There are six children in the family, four girls and two boys. But her clear favorite is Robin, soon to be returned, in uniform, from the service.
Of the girls, young Carol is the loveliest. As played by Anna Baryshnikov, she's blonde, angelic, and almost balletic in movement. This should come as no surprise as she is, indeed, daughter of the great Mikhail. Everyone adores Carol, who meets a too-early end. The drowned Mr. Conway preceded her; both are mourned and missed.
Hazel is the sparkplug daughter, the beauty around whom the suitors buzz. Anna Camp is heartbreaking in the later time period, shackled to a rich husband who snaps his fingers to get her to come with him. Robin turns out to be a drunk, a leach, and a wastrel; his beaten-down wife and neglected kids also fare none too well. None of the others have the happy, frivolous life that is proclaimed in the early years.
It's obvious that Time and the Conways is about Britain itself between the wars. Whatever impression you may take away from this well-done production of a rather stilted play, this is for certain: the kids are not alright.
Cast:
Elizabeth McGovern, Steven Boyer, Anna Camp, Gabriel Ebert, Charlotte Parry, Matthew James Thomas, Anna Baryshnikov, Brooke Bloom, Alfredo Narciso, Cara Ricketts
Technical:
Sets: Neil Patel; costumes: Paloma Young; lighting: Christopher Akerlind