Images: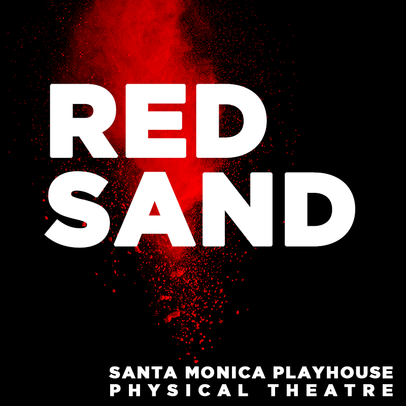 Review:
Red Sand, a recital by Serena Dolinsky and her small physical-theater company, was produced by Chris DeCarlo and Evelyn Rudie, co-artistic directors of the Santa Monica Playhouse, one of the country's most respected intimate theatrical centers. Since 1973, the Playhouse has been honored with over 250 awards and has presented 600 classic, contemporary and original productions. The educational wing of the Playhouse has also thrived over the years, touching the lives of nearly a million theatre students through its on-site and public-school classes.
Red Sand unfolds on a near-bare stage but uses sound and light to create its mood; the cues come fast and are timed precisely with the moves made by the six-person cast. These moves are carefully choreographed, always with the aim of making a statement about loss "in its various forms, flows, shapes and moments."
Many stories are told, all of them without words, but so expressive is the performers' body-language that it's not hard to figure out what's being "said." Some of the vignettes dealt with war, death and heartbreak, but others investigated the more positive results of loss (freedom, release, unburdening).
I came away from the recital feeling moved by it. I also was deeply impressed by the commitment of Dolinsky's company, all of whom put heart and soul–and considerable artistry–into making the recital the success it was.
Cast:
Ali Cesur, Serena Dolinsky, Alexander Karavay, Diana Shield, Brenann Stacker, Jordan Zbylski
Technical:
Lighting/Sound: The Bleue Mat Co.; Costumes: Ginger Brede; Set: Chris DeCarlo; Technical Consultant, Fritz Davis; Production Stage Manager: Drue Devereaux