Images: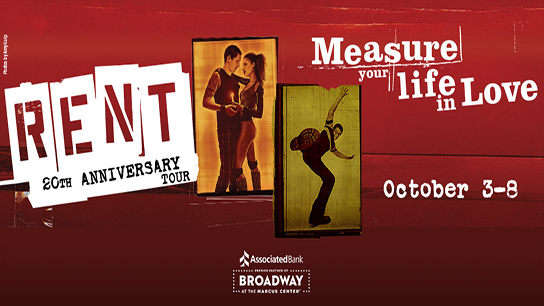 Company/Producers:
Tour: Associated Bank Broadway at the Marcus Center, the Marcus Center Broadway Across America – Milwaukee, Work Light Productions
Theater:
Marcus Center for the Performing Arts
Director:
Evan Ensign, based on Michael Greif
Review:
More than 20 years ago, Rent opened Off-Broadway, and forever changed the direction of American musical theater. The show was created over a span of many years by Jonathan Larson, who worked as a waiter to pay the bills during its creation. Larson died on the night before Rent's first Off-Broadway preview.
These tragic circumstances only increased the attention that Rent initially received. The show moved to Broadway (the Nederlander Theater) in 1996. Twenty years later, its discordant sounds ring with youthful rebellion, anger, joy, love, and the reminder to live in the moment. It's ironic that Larson posthumously reminds audiences there's "no day but today."
Milwaukee audiences have seen better productions of this show, such as the one in 2009 that featured two of the original Broadway performers: Adam Pascal (Roger) and Anthony Rapp (Mark). It had a richness and an authenticity that the current, non-Equity production lacks.
The current production also looks cheap, even by Rent standards (the show is set in a poor section of the west Village in New York City). And the performers rarely convey the message that Larson wanted the audience to hear, mostly due to poor acoustics on opening night. This hasn't been an issue for Marcus Center for the Performing Arts' Broadway shows for a long time, but Tuesday's show was difficult to understand at times. The sound problem probably will be resolved in successive performances. As Rent begins, twenty-something roommates Mark and Roger are wondering how they are going to pay the landlord for a whole year's rent. They are living in a makeshift apartment in an old factory without heat. This point is particularly relevant on the frigid night in which the opening scene takes place. Fast-forward to all the characters who dominate their little community. Some are former roommates, former lovers, or former friends from the 'hood. As they live and love (and fight) together, they also are completely shut off from some well-meaning parents who leave messages on Mark and Roger's answering machine. Parents aren't important, it seems, as the guys strive to find their "voice," in Roger's case (since he's a rock guitarist), and his "eye" in Mark's case, (as he becomes a filmmaker). For now, he films almost everything in his world.
Rent is set "amid poverty, homelessness, gay life, and punk," according to Larson, during one of his rare interviews. With no money for food, entertainment or – heaven forbid – paying the rent, the characters form a community. They share whatever good fortune lands in their lap, and comfort each other when tragedy strikes. The current tour doesn't have the impact it should as the community sadly starts to split apart.
The 20th anniversary tour does have some high points, though. Aaron Harrington has as big a voice as anyone would want. He uses his rich, full baritone to enliven one of the show's upbeat numbers, "Santa Fe," as well as a romantic ode, "I'll Cover You (with a thousand kisses)." The latter is sung with Collins's boyfriend, the show-stopping drag queen, Angel (Aaron Alcaraz). Alcaraz is another standout in the cast, as he sings and dances with the carefree charm that Angel embodies.
A lackluster performance by Kaleb Wells (Roger) makes his character's relationship with Mimi (Skyler Volpe) seems less central to the plot than it should be. The rest of the cast does a better job of singing than acting. The orchestra is fine, too. Lyndie Moe (as Maureen) does a super job with her avant-garde performance-art piece, which is loosely taken from the nursery rhyme "Hey, Diddle Diddle." And the nod to its predecessor, Puccini's opera, La Boheme, is thrillingly captured in "La Vie Boheme." The song combines all the musical's emerging themes in a way that can mesmerize an audience, thanks in no small part to its edgy choreography. "La Vie Boheme" stands with the musical's best-known song, "Seasons of Love," as perfectly crafted time pieces.
The community's revolutionary spirit is heightened by the specter of AIDS/HIV. Those who are infected really must live "minute by minute" until they fall victim to the disease. They realize that their dreams can't be deferred, because tomorrow may never come. That's a good lesson for all of us, especially in this current era of terror that can end lives in an instant, anywhere, any place.
Cast:
Kaleb Wells (Roger); Sammy Ferber (Mark); Aaron Harrington (Tom Collins); Marcus John (Benny); Jasmine Easler (Joanne, Maureen's girlfriend); Aaron Alcaraz (Angel); Skyler Volpe (Mimi); Lyndie Moe (Maureen).
Technical:
Costumes: Angela Wendt; Lighting: Jonathan Spencer; Sound: Keith Caggiano; Musical Arrangements: Matthew DeMaria; Music supervision and additional arrangements: Tim Weil
Awards:
Pulitzer Prize, Tony Award (best musical)