Images: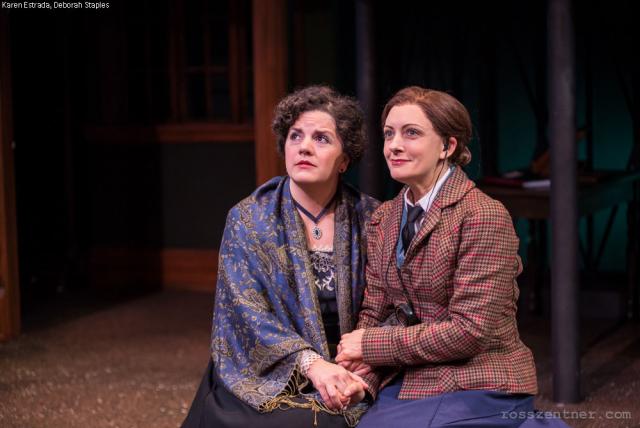 Review:
Audiences don't need a degree in astronomy to get the full impact of a turn-of-the-century woman who virtually changed the way we look at the universe. Milwaukee's Next Act Theater offers a near-perfect production of Silent Sky by Lauren Gunderson.
The action focuses around Henrietta Leavitt, a real-life astronomer who left Wisconsin after college to become (she thinks) an astronomer at Harvard University. Actor Deborah Staples (as Henrietta) is so enthusiastic about her job offer that the audience can't help but root for her. Just the fact that a woman in that era would choose to move so far away from her family is framed by protests from Margery, her sister (Karen Estrada), and from their unseen father, a minister. Henrietta must ask her father for her dowry to have enough funds to travel and live in Boston. But she begs the much more sympathetic Margery to plead on her behalf.
In her heart, Margery knows that Henrietta won't be stopped. Even now, Margery clucks at her sister, "you stay up all night, like a moth." Estrada gives a compelling and entirely sympathetic performance as Margery, the sister who stays home to marry, raise a family and care for their father.
Henrietta arrives in Boston to a rude awakening. Her position isn't to be an astronomer at all, but rather, to be part of an office secretarial pool. Henrietta is justifiably upset by this situation, and tells off a male assistant professor who believes that scientific work is only for men. Henrietta counters with, "the mind is sexless; so is the sky." Instead, she is given the tedious work of scanning images from the telescope to identify and catalogue stars.
The breathtaking intensity of Silent Sky makes it easy to believe why Gunderson is the most-produced living playwright in the U.S. The San Francisco-based playwright's most acclaimed play, I and You, has won numerous awards. Next Act Theater introduced Milwaukee to this playwright in a production several years ago. Next Act's production of Silent Sky is also its first in the Milwaukee area.
Perhaps Gunderson knows she is in good hands here. Artistic Director David Cecsarini has created one of the best shows this reviewer has ever seen within these walls. Although the play was written in 2014, it has special relevance in today's world. Silent Sky allows audiences to lift their eyes to the heavens at a time when natural disasters and terrorism are creating havoc on Earth.
Deborah Styles is glowing, passionate and fearless in her portrayal as Henrietta. In addition to Deborah Staples and Karen Estrada, the brilliantly cast production includes two of Henrietta's co-workers. Carrie Hitchcock, as Annie Cannon, assumes rugged, craggy facial features to run her office with military precision. However, Annie is a contradiction in terms. She marches as a suffragette while also criticizing some women's decision to trade long skirts for bloomers. (By the end of the play, costume designer Jason Orlenko has Annie wearing wide-legged pants that mimic the effect of a sweeping long skirt.)
The office's sweeter, kinder, gentler soul is portrayed by Kelly Doherty (as Willamina Fleming). Dressed fashionably in a hairstyle and simple outfit consistent with the era, Doherty's character typically defers to Annie. This is surprising, as both share the same title. But even as she gives in, Doherty manages to slip in a zinger or two at Annie's expense.
Gunderson makes it crystal clear that these women must band together for camaraderie as well as survival "in a man's world." Interestingly, as the only man in the play, Peter Shaw (Reese Madigan) comes across most of the time as timid, awkward and shy. Beneath his calm demeanor, Peter is secretly fascinated by Henrietta. On the night before he sails off to Europe for an astronomer's conference, Peter finally gets the courage to tell Henrietta of his feelings for her. It's one of the play's many highlights.
Madigan varies between the spectrum of cool, distant scientist and ardent admirer with impressive skill. He makes it clear that, for Madigan's character, women are a complete mystery. He also makes believable his character's moment of weakness that changes his love for Henrietta forever.
Silent Sky takes place on a superb set that integrates various locales: rural Wisconsin where Henrietta grew up, a small church, the solemn atmosphere of Harvard, the deck of a cruise ship, etc. Behind the set is a curved projection screen. It is most effective when Henrietta looks up at the stars and is completely consumed by them.
Many of the scenes in Silent Sky will linger long after one leaves the theater. Henrietta Leavitt's considerable discovery in the early years of the 20th century allowed us to "find" our place in the universe, and Gunderson's play allow us to "find" Leavitt's place in history. Leavitt's achievements certainly deserve to be championed in a play like this one.
Cast:
Deborah Staples (Henrietta Leavitt); Carrie Hitchcock (Annie Cannon); Reese Madigan (Peter Shaw); Karen Estrada (Margaret Leavitt), Kelly Doherty (Willamina Fleming).
Technical:
Set: Rick Rasmussen; Costumes: Jason Orlenko; Lighting and Video: Aaron Sherkow; Sound: David Cecsarini.