Images: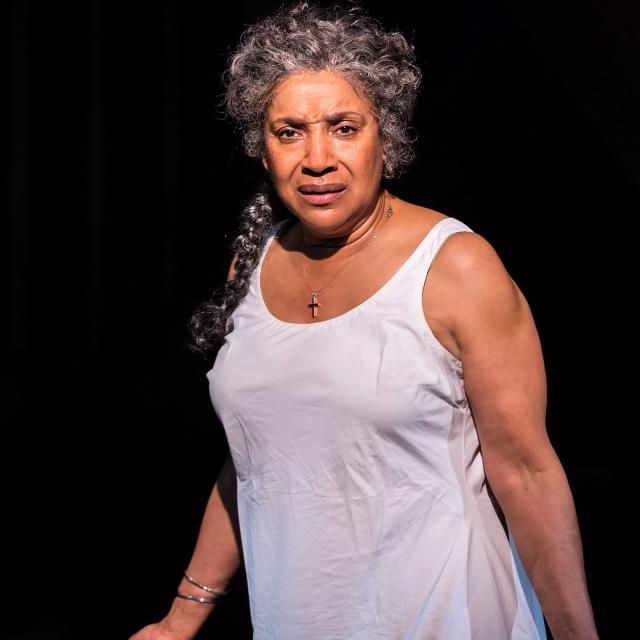 Company/Producers:
Center Theater Group/The Public Theater/Berkeley Repertory
Review:
Lawdy, lawdy what a bad play. Head of Passes (the awful title should have been a warning of things to come) is a retelling of the Book of Job set in a Black household where "the Mississippi River meets the Gulf of Mexico." There Shelah (the valiant Phylicia Rashad) rules over a family beset by enough problems to fill a chapter in the Old Testament. For starters, Shelah is ill (you know she isn't long for this world when she gives her first wheezing cough). Then there's the matter of the house, a once-grand mansion that Shelah ran successfully as a B & B with her late husband, a no-good nigger (her words) who ran with other women and fathered a child with one of them, Cookie (Alana Arenas).
For some unexplained reason, the B & B then began to fail. Although Shelah had two grown sons, Aubrey (Francois Battiste) and Spencer (J. Bernard Calloway), and could count on the help of a longtime servant, Creaker (John Earl Jelks) and his teenaged son Crier (Kyle Beltran), nobody sought fit to patch the holes in the house's roof. Thus when it starts to rain in Act One, water pours down on everyone (ingenious set by G. W. Mercier). And when the storm keeps building in intensity (though no one dares call it a hurricane), the house starts to collapse).
This all-too-obvious symbol is typical of Head of Passses. The play by Tarell Alvin McCraney, which is now on tap at the Taper after runs in Chicago, New York, and Berkeley, unspools in a heavily melodramatic way. Key lines are shouted and often repeated, and in case you still fail to get their meaning, director Tina Landau has the actors roll their eyes and wring their hands for additional emphasis. Shades of Jack Benny's Rochester.
The story focuses on Shelah, the matriarch of an ungrateful brood. Her sons have not only walked out on her but want her to sell the family house. As for Cookie, she too has left home — run away from it, is more like it — and become a junkie and a whore. Thus, Shelah must stand alone in her fight to save the family manse and its long heritage.
Yes, she has one friend, Mae (Jacqueline Williams), but this woman is dead broke and pretty ineffectual. Even more useless is the one white person in the play, Doctor Anderson (James Carpenter), who appears in several scenes but does not manage to say or do one intelligent thing.
Shelah is deeply religious, a woman of blind, powerful faith. You could say she's a fanatic. She truly believes that because she has feared God and shunned evil, God will come to her aid. This bitterly sorrowing, deeply hurt woman, cries out in the midst of desolation and ruin for a sign from God that he hears her, cares for her.
Nearly the whole of the second act consists of Shelah's cry for help. McCraney has written an impassioned aria for her, a long, desperate plea for the Lord to recognize her, take pity on her. Rashad delivers the aria while stripped nearly naked, standing in a pool of rainwater, a victim of merciless fate. The actress pulls all the stops out, using every bit of acting technique she can muster, not only to make the speech work but to try and save Head of Passes from being a total disaster.
Cast:
Phylicia Rashad, Alana Arenas, Francois Battiste, Kyle Beltran, J. Bernard Calloway, James Carpenter, John Earl Jelks, Jacqueline Williams
Technical:
Set: G. W. Mercier; Costumes: Toni-Leslie James; Lighting: Jeff Croiter; Sound: Rob Milburn & Michael Bodeen; Wigs/Hair: Robert-Charles Vallance