Images: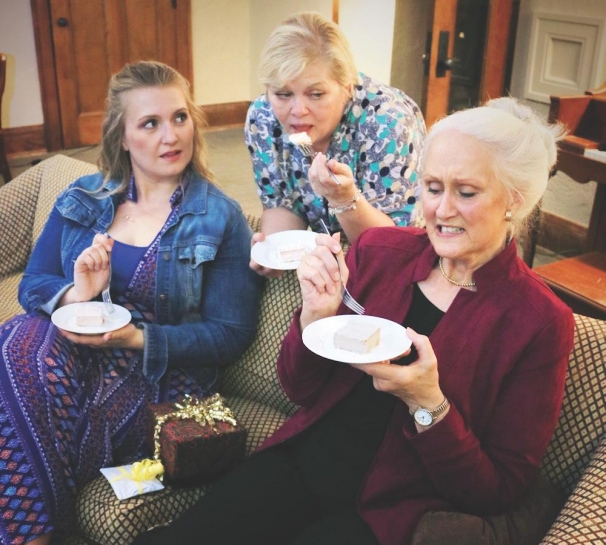 Review:
One of the rare delights of Milwaukee's fall theater season is the scope of its productions. One finds locally staged, extravagant musical productions with full orchestras and large casts, as well as chamber pieces such as Canadian playwright Daniel MacIvor's new play, Small Things. Its US premiere is being produced by Milwaukee's Boulevard Theater in its temporary home, a church located on the outskirts of the University of Wisconsin-Milwaukee campus.
Despite an impressive number of plays to his credit, MacIvor isn't particularly known in America. In 1998, MacIvor won the award for overall excellence at the New York International Fringe Festival for his play Never Swim Alone .
In 2002, his play In on It earned him a GLAAD award and a Village Voice Obie Award. MacIvor is mainly known in his home country as an actor, although he is a screenwriter as well as a playwright. This is the second of MacIvor's plays to be presented by Boulevard. In 2006, the company produced MacIvor's best-known work, Marion Bridge .
A charming trio of actors in Small Things creates the full spectrum of the female experience: A young single mother with her two sons; her own mother, who was recently widowed; and an older widow of means who has just moved to the country for peace and quiet. The older lady (played by Christine Horgen) walks with a cane and needs a housekeeper. That's how Patricia Branch meets Birdy (Donna L. Lobacz). Birdy has scraped by on odd jobs ever since her own husband died.
The three women show an almost instant dislike for each other. As the daughter, Dell (Nicole Gorski) is forever holding her tongue so as not to offend her mother, with whom she lives. Birdy is the cast's motormouth, so we tend to know the most details about her. Maybe she talks so much to distract her from thinking about her buried husband. Birdy seems to have an opinion about everything, even in the raising of her grandchildren.
As the play opens, Mrs. Patricia Branch is interviewing Birdy for a housekeeper position. She ends up hiring Birdy despite her better judgment. Birdy has lived in this small town a long time, and perhaps Patricia (who insists on being called "Mrs. Branch") is counting on Birdy's knowledge when she needs a plumber or handyman.
Mrs. Branch, who is childless, is a retired school teacher. She empathizes with Dell, the daughter, on the problems she is having with school administrators. Dell's youngest son has started insisting on being called "Alice." While Birdy announces that "it's just a phase," she also blames Dell for "naming him Wolfgang." Mrs. Branch seems more receptive to the idea of gender-switching, and she becomes quite fond of Dell.
Of all three women, it is noteworthy that Dell seems to be the most compassionate and flexible. After all, she has lost a man, too. And her young sons do not have a stable male figure in their lives.
MacIvor has an excellent ear for dialogue, and the actors' speech patterns instantly transmit their position in life. Mrs. Branch is reserved and formal, Birdy has a blue-collar accent, and Dell has more of a lilt in her voice. Dell is studying online and hopes to become a health practitioner who dispenses medical marijuana.
The play is funny as well as heartwarming. When Birdy protests over Dell's marijuana use, Dell shoots back, "Taking pot is medicinal when living with you!"
The lovely common room inside Plymouth Church has plenty of space for about 30 chairs, but there is no stage. In his opening remarks, artistic director Mark Bucher encourages audiences to "use their imaginations" to see two sets when only one is apparent. "Well, the two homes had the same decorators. Isn't that fortunate," Bucher says with a laugh. The simulated light cues (overhead lights going on and off) and lack of a stage make the audience feel like they are eavesdropping on a conversation.
Impressively, not only do the actors move props around to indicate their location, they also manage to change costumes in this 90-minute, one-act play.
In the end, the women discover they are stronger than they think. Despite their major socio-economic differences, the two older women value their companionship. Patricia Branch also finds a sense of usefulness near the end of her life by helping Dell navigate through the roadblocks she faces in the educational system. All three women are better for meeting each other, and theatergoers should contact the Boulevard Theater before they are all snapped up. Trust me; you'd like to meet these women, too.
Cast:
Donna L. Lobacz (Birdy); Christine Horgen (Patricia Branch); Nicole Gorski (Dell).
Technical:
Stage manager: Jessica Principali