Images: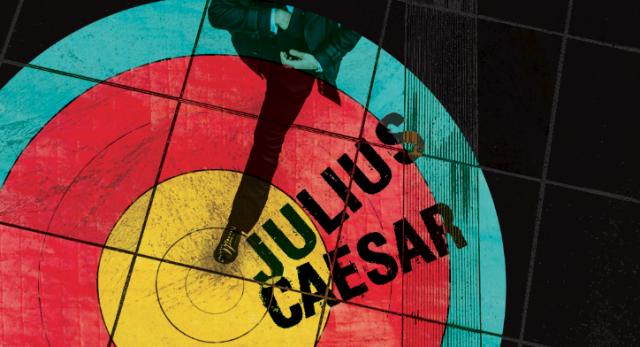 Company/Producers:
Florida State University - Asolo Conservatory
Theater:
Florida State University Center for the Performing Arts - Cook Theater
Review:
Publicity has it that "Julius Caesar endures as a provocative examination of personal responsibility against the backdrop of great political consequences." That may be true of Shakespeare's play, but Tyler Dobrowsky's adaptation for FSU/Asolo Conservatory's touring production is mainly a story of a murder to gain the kind of power sought on Wall Street in the 1980s.
The opening set makes clear that a lot of liberties have been taken both with Shakespeare's play and with historical fact. Office workers and politicians and Caesar himself are shouting behind a banner screen of Caesar and his words "I came, I saw, I conquered" (not in the original Latin). Weren't the referenced wars in Gaul as much as 14 years before his murder soon taking place on stage?
Andrew Bosworth is smirkingly imposing as Caesar in a white business suit seen surrounded by "workers" who are hard to tell apart until their names are given and some even afterward. (Women take several of the office men's parts, and tall Colleen Lafeber as Cinna wears stiletto heels that weren't big in the '80s.) From the moment of his first appearance on the "outside" of the office crowd, Nolan Hennelly's impressively vicious Cassius is the one to watch throughout.
Anthony J. Hamilton speaks with political fervor as Brutus but doesn't seem aggressive enough to have been a battlefield leader, as he will soon, under other circumstances, try to be. Aleksadr Krapivkin's Mark Anthony seems mild mannered enough to get the funeral speech gig but perhaps too much so away from the body.
Amy Helms impresses giving Calpurnia a different character than her Titinius. Kedren Spencer is a proper Casca, as is Mary Ellen Everett making an easy switch from Portia to Octavious.
Dustin Babin importantly speaks with urgency as Decius. Christopher Carlson makes Lucius a notable conspirator.
James Dean Palmer's vigorously directed production uses immersive techniques to advantage. He is aided mightily by the professional sound (often of thunder) and lighting. Costumes, even when only the backs are shown, do heavy duty appreciably.
I think students will enjoy this adaptation of Shakespeare, but I hope it's not a substitute for reading, understanding, and even liking the original. If I were teaching the play, I'd use the performance of the adaptation to have students compare the two versions. I think the best students would be able to point out why a dumbed-down version of Shakespeare's play is no more contemporary than his. And probably more effective, when understood.
Cast:
Dustin Babin, Andrew Bosworth, Christopher Carlson. Anthony J. Hamilton, Amy Helms, Nolan Hennelly, Aleksandr Krapivkin, Colleen Lafeber, Amber Lageman alt. with Mary Ellen Everett; Kedren Spencer, Wes Talman
Technical:
Set/Properties: Marlene Marotte Whitney; Costumes: Dominique Fawn Hill; Sound: Matthew Parker; Lighting: Ethan Vail; Movement: Myah Shein; Vocal Coach: Patricia Delorey; Dramaturg: Paul Adolphsen; Production Mgr.: Vic Meyrich; Stage Mgr.: Matthew Brooks
Miscellaneous:
This 8th annual touring production is designed especially to take to schools with 57 performances booked to show to estimated 15,000 audience members.