Images: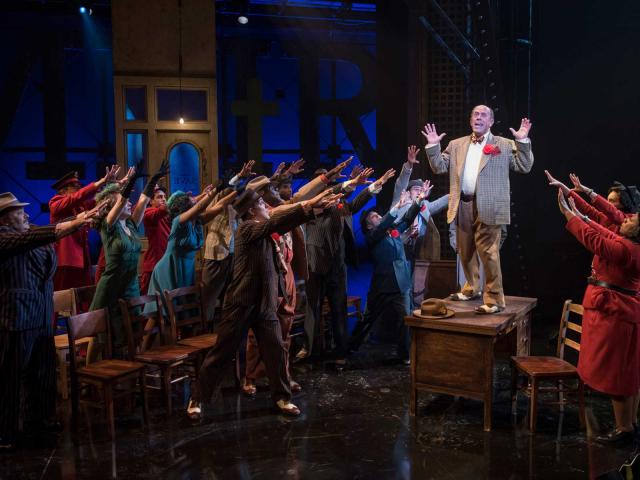 Company/Producers:
Milwaukee Repertory Theater
Theater:
Milwaukee Repertory Theater - Quadracci Powerhouse
Review:
One of the most cherished musicals in the American theater canon, Guys and Dolls, is currently being revived at Milwaukee Repertory Theater. It would be difficult to rise above the high standard set by last season's musical, Man of La Mancha and, frankly, this year's show doesn't come up to the bar.
Yet that's not to say there isn't much to like (or even love) in this flashy glimpse of New York during the Roaring Twenties. There's a huge cast of "guys" (mostly gamblers in pin-striped suits and snappy hats) who roam the streets in search of "action" (an illegal crap game). Of course, there's no crime when it comes to ogling the "dolls" (fancy-dressed women). The show's acting is crisp, the well-known songs are nicely delivered, and the production values all hit the mark.
It's hard to believe that the Milwaukee Rep's main stage was never built for staging musicals. Artistic Director Mark Clements changed all that when he arrived eight years ago. Milwaukee Rep has staged at least one musical per season ever since.
In the diverse cast of Guys and Dolls, one finds a Hispanic Nathan Detroit (Richard B. Henry) constantly disappointing his lady love, Adelaide (Kelly Faulkner). Although the couple may not spark many flickers of chemistry, both actors are fine in their respective roles. Faulkner makes an Act I highlight out of Adelaide's famous Hot Box number, "A Bushel and a Peck." The chorus girls – all adorably dressed in fluffy yellow chicken costumes with bird nests for hats – dance their tails off.
As anyone who has seen a production of Guys and Dolls knows, Nathan and Adelaide are engaged. Yet their engagement is so old that it could enter high school. Still, the ever-optimistic Adelaide goes along with Nathan's reassurance that their wedding day is coming soon. Right.
Another naïve New York woman is the spiritually upright (and uptight) Sarah Brown (Emma Rose Brooks). She's a wet-behind-the-ears newcomer who is here to recruit local "sinners" for the Save-a-Soul missionary. Unknown to her, Sarah is caught up in a bet between Nathan and a high roller named Sky Masterson (Nicholas Rodriguez). Sky is a loner and professional gambler who travels the country in search of a good gamble. Since this is the 1920s and not the 21st century, all he must do is take Miss Sarah to dinner in Havana.
Luckily for Sky, he gets Sarah to agree by making another bet: He guarantees to bring a dozen sinners to the missionary hall for an upcoming meeting. Sarah agrees, if only to keep her missionary doors open. She thinks a room full of "sinners" may impress one of the missionary's regional directors (Virginia Ann Woodruff) to reconsider her decision to close the mission.
Not only does Rodriguez look the part of a suave con man, he astonishes with his rich, nuanced voice. This elevates Sky's songs, "My Time of Day" and "Luck Be a Lady." One can certainly understand Sarah's interest in him, although she tries to hide it beneath her uniform's prim bonnet. Still, once she's had a couple of alcoholic drinks in Havana (that she thought were milkshakes), she loses her inhibitions. The Havana scene pulls everything together: the plot, the lovebirds, the décor and the spirited dancing sequence. It's also an appropriate time to admire the full, rich sounds of an orchestra hiding behind a backdrop.
One small quibble is that the gamblers seem too sanitized. Aside from their perfectly pressed suits, their behavior suggests some recent graduation from finishing school. This may be a concession to director Mark Clements's wish to make this a family-friendly show. But even the notorious Big Jule (Andrew Varela), a mountain-sized man from Chicago with a short fuse and a quick trigger finger, fails to frighten. Clements also decides to convert most of the show's language to a Midwest accent. For instance, Adelaide sings "person" instead of the typical Brooklynese "poy-sun."
The production does well with "Sit Down, You're Rockin' the Boat," which is easily one of the all-time best "11 o'clock numbers." Unfortunately, Michael J. Farina (as Nicely Nicely Johnson) doesn't distinguish himself earlier in the show. So he's not quite believable as the song's inspired storyteller. Yet he manages the material quite well, with all the gamblers and dolls listening in hushed silence until it's time to chime in during the chorus. The song builds and builds until it becomes the show-stopper this song was meant to be.
Saving the best for last, Stephen Mears's choreography is second to none. A few of the male dancers provide overkill with athletic back flips and such, but every character onstage shows precision during the show's nearly non-stop choreography. Those who haven't seen a solid production of Guys and Dolls in years (or ever), will definitely want tickets for this full-throttle version of the "most established, permanent, floating crap game in New York."
Cast:
Emma Rose Brooks (Sarah Brown); David Hess (Arvide Abernathy); Nicholas Rodriguez (Sky Masterson); Richard R. Henry (Nathan Detroit); Kelley Faulkner (Miss Adelaide); Michael J. Farina (Nicely Nicely Johnson); Adrian Aguilar (Benny Southstreet), Gerry McIntyre (Rusty Charlie).
Technical:
Set: Scott Davis; Costumes: Alexander B. Tecoma; Lighting: Jason Fassl; Sound: Megan B. Henninger; Music supervisor: John Tanner