Images: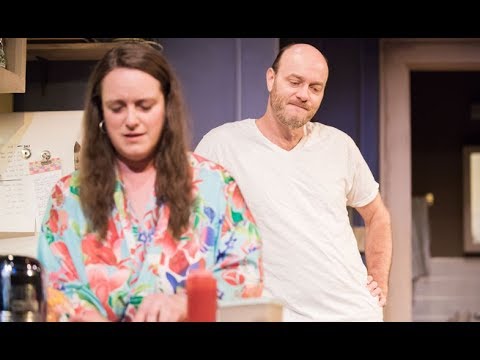 Company/Producers:
Milwaukee Chamber Theater
Theater:
Broadway Theater Center - Studio Theater
Website:
milwaukeechambertheatre.com
Review:
Playwright Terrence McNally is a funny guy with a keen ear for conversation. These talents come together in one of his best plays, Frankie and Johnny in the Claire de Lune. Happily, Milwaukee Chamber Theater pairs two terrific Equity actors, Marcella Kearns and Todd Denning, in a performance that brings out the complexities in these seemingly ordinary folks.
Frankie is a waitress and Johnny a cook who slings hash; they both work at the same restaurant. They spend monotonous days serving comfort food and wondering how they ever got to this place in their lives.
The play is set in 1987 in a walk-up studio apartment on New York's west side. At that time, Hell's Kitchen (now gentrified and renamed "Clinton") was considered a "dicey" area that wasn't particularly safe for a woman living alone. Wisely, director Mary MacDonald Kerr keeps the location and timeframe intact, so audiences can understand the pressures Frankie is facing. (Her apartment is beautifully and authentically rendered by set designer Brandon Kirkham.)
The play opens with Frankie and Johnny having sex after a movie date. Frankie assumes that this is a one-night stand; so she tries to keep an emotional distance from Johnny to avoid any awkwardness at their workplace. Johnny, however, isn't having any of it. In his plain-spoken way, he tells Frankie that she's The One.
To buy himself more time in her apartment, Johnny becomes a motormouth who frantically tries to find some commonality between himself and Johnny. Frankie responds at one point by mentioning the film, "Looking for Mr. Goodbar," indicating that she fears Johnny's erratic behavior might lead to violence.
This only increases Johnny's ardor at hanging onto a woman who might be his last chance at love. To impress her, he quotes bits of Shakespeare and seems to enjoy classical music, such as Debussy's "Claire de Lune" mentioned in the title. The Debussy piece, literally named "Moonlight," eventually is heard on Frankie's radio while the two characters bask in the light of a full moon.
The Milwaukee Chamber actors cast in these roles fit the bill perfectly: neither is young nor in terrific physical shape. (Audiences can gauge the latter by observing the couple in various stages of undress). They play off each other in a way that gives life and purpose to even the throw-away comments in McNally's dialogue.
The original production of Frankie and Johnny by the Manhattan Theater Club opened Off-Broadway in 1987. It was restaged on Broadway in 1991. The Tony-nominated Broadway version starred Edie Falco and Stanley Tucci and, later, the play was turned into a film. The title was shortened to, "Frankie and Johnny."
Having seen the Broadway production, I can say that Denning behaves with a puppyish enthusiasm that eclipses Stanley Tucci's more stoic performance. Denning puts his own spin on the role, and his instincts (and MacDonald's direction) are good ones. Together, they bring out every ounce of humor in McNally's script. Kearns also has her share of comic moments, especially when she levels Johnny with her deadpan delivery. Frankie is the anchor who will keep Johnny anchored to the world, although it takes nearly the entire play for her to see the possibilities in their relationship.
The charm of this play is that the audience understands almost immediately that this lonely couple deserves a chance. Johnny, a man of limited intelligence, spends most of the play trying to make a "connection" with Frankie in the only way he knows how. He deflects her cutting remarks because he trusts his heart. Frankie, whose history with men hasn't been the best, is afraid that Johnny will take advantage of her. He eventually wears her down. She confides to Johnny that she would like to return to school to become a teacher. We leave the theater hoping that Johnny will stick to his word to help make her dreams come true, even as he basks in the glow of a potentially loving relationship.
Frankie and Johnny appeals to the romantic in all of us. It reminds us that happiness is possible even for people who aren't – and never will be – reaching the pinnacle of what society considers success. As Johnny says, it takes heart – not brains – to share joy with one another. Although McNally doesn't promise a happy ending for these two, he leaves us with the possibility that they might make it.
Parental:
strong adult themes, mild nudity
Cast:
Marcella Kearns (Frankie); Todd Denning (Johnny).
Technical:
Set: Brandon Kirkham; Costumes: Amy Horst; Lighting: Holly Blomquist; Sound: Kristin Wiborg.