Images: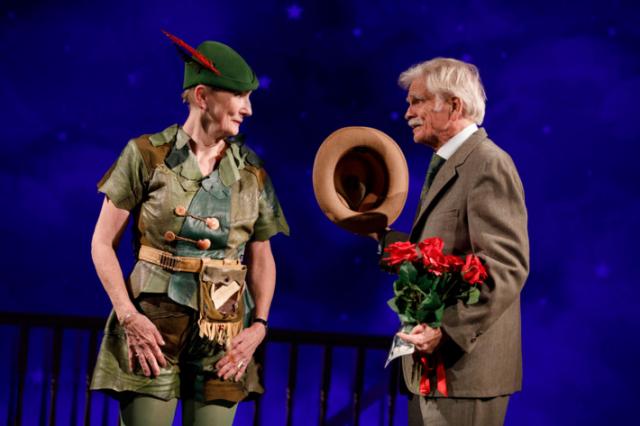 Review:
When did you finally grow up? When you got married? When you graduated from college? After the birth of your child? Yet aren't there times when you wish you were a kid again?
Despite some darker themes, James Barrie's classic character Peter Pan is the epitome of perpetual youth. Playwright Sarah Ruhl uses the boy "who wouldn't grow up" to explore the themes of aging and death in her latest play, For Peter Pan on her 70th Birthday.
The play has distinct segments that don't always connect smoothly. The 90-minute piece begins with Ann (the marvelous Kathleen Chalfant) coming out from behind the curtain to recall her experiences as a girl when she played Peter Pan in the children's theater in Davenport, Iowa. She cherishes the playbill that the actress Mary Martin signed. Then the curtain opens to a hospital room where The Father lies dying. His five children have gathered around him as he takes his last breath.
After his death, the children gather in their childhood home for an Irish wake where they share liquor and memories of their parents. They spar about politics, religion and death. Every once in a while, they fall into familiar sibling behavior about who the favorite was or who felt invisible. Their memories of their deceased mother's character seem better delineated than that of their father. Having now lost their father, they question their own mortality. The youngest, Wendy (Lisa Emery) cries that she is an orphan. Each recalls the point at which he/she became an adult and Ann confesses that she's afraid of death.
Later, when Ann rummages through the trunk in her childhood bedroom, she finds her Peter Pan costume and puts it on, yearning for her youth. Ann is a college professor and raised her daughters as a single parent. She exudes authority and it's hard to imagine her wanting to be childlike again.
This time, the curtain opens to reveal the bedroom scene from Barrie's play where Ann's appropriately named siblings, John, Michael, and Wendy lie in bed waiting for the arrival of Peter Pan.
Although "Peter" wants to stay young, her body is betraying her. Her leg hurts, Wendy's arthritis is bothering her and someone complains of gout. Aging prevents Peter from flying, so she must walk to Neverland. After some nifty flying sequences, with the requisite fairy dust and Tinker Bell, Ann/Peter winds up on the stage alone and remains in the theater because that's where she can "stay young" forever.
Ruhl (Eurydice, In the Next Room) bases much of the first half of the play on her mother, and even interviewed her own siblings for their recollections about growing up. The early scenes are extremely drawn-out, and the pace is slow. There's bit more energy with some humor and discussion in the wake scene. Yet the relationships between the five siblings doesn't feel strong enough and the siblings could easily be workplace colleagues.
The nursery scene is livelier and often charming, but then it turns a bit poignant as age and aches and pains limit the characters. Then real life intervenes as the four younger siblings bid Peter goodbye, saying they must return to their lives and families.
Ruhl has several themes, but, despite the talented performers, particularly Chalfant and Emery, they don't successfully mesh. The audience can't really connect with the characters. The play has some whimsy with the actors actually flying, the dead Father wandering through the play, and a childhood pet, a trained dog, appearing intermittently. Yet it's not enough to engage the audience throughout.
By the end, the play is less about the family but more about fear of aging and death. Who but Peter Pan is better to exemplify perpetual youth and what venue is better than the theater to exemplify a place where time can stop?
Cast:
Kathleen Chalfant, David Chandler, Ron Crawford,Lisa Emery, Daniel Jenkins and Keith Reddin