Images: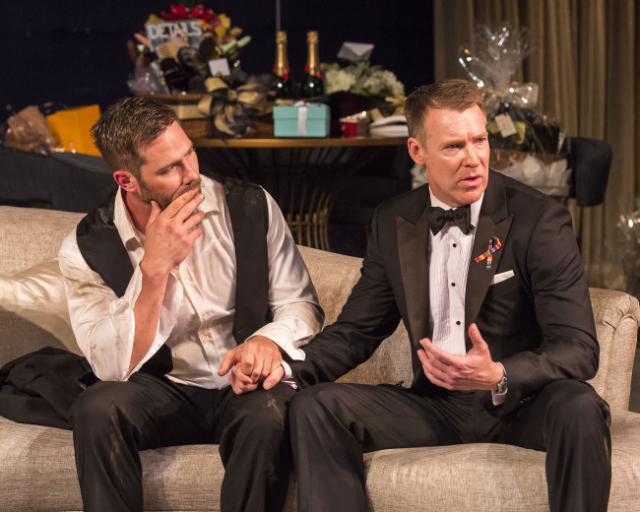 Theater Address:
9820 Washington Boulevard
Review:
In Big Night, Paul (I Hate Hamlet) Rudnick's latest comedy now in a world premiere at the Kirk Douglas, a gay actor faces a test of conscience. The actor, Michael (Brian Hutchison), has an excellent chance of winning an Oscar. His conscience, prodded by Eddie (Tom Phelan), his  militant transgender nephew, tells him he should make a strong statement on behalf of gay rights. His agent, however, thinks such a public act would be foolhardy. As Cary (Max Jenkins) points out, the Star Wars franchise wants to sign him to a multi-million-dollar contract. Why jeopardize the deal by making a controversial political statement? Even though Cary himself is gay, he thinks Michael would be nuts to come out so strongly as a spokesman for the LGBT cause.
Rudnick sets his 80-minute play in a Beverly Hills hotel suite (gaudily vulgar set by John Lee Beatty) on the day of the Academy Awards. Michael, a veteran actor who has struggled all his life to make a living, has invited his mother to attend the awards ceremony. Esther (Wendie Malick), an elegant, bigger-than-life character, shows up with a guest of her own, Eleanor (Kecia Lewis), a Pulitzer Prize-winning poet. Esther is Jewish and white, Eleanor is Baptist and black, but as they soon inform Michael and Cary, they are not only lovers but intend to marry. Consequently, they would love to see him use the bully pulpit to advocate on behalf of the gay community.
Things get complicated when the real world impinges on the tinsel world. Just when the Oscar ceremony has gotten under way, news comes through that a gunman has attacked the LGBT center in West Hollywood. Dozens of people have been killed, possibly including Michael's boyfriend Austin (Luke Macfarland). The shocked and distraught Michael, therefore, is incapable of delivering a speech, even after he learns that the best-actor prize is his.
Because Big Night is a comedy, not a tragedy, Austin not only doesn't die but, covered in blood, manages to make his way to the hotel and join the proceedings. This doesn't let Michael off the hook, though. As Austin and Eddie point out, with an Oscar-winner's power behind him, a statement on gay rights will have an even bigger impact on public opinion. At this, all Cary can do is roll his eyes and let out a howl of pain.
Most of the laughs in Rudnick's comedy come from the many wisecracks, the fun poked at Hollywood, the Oscars, the theater world (Cary is terrified that Michael will let it drop that he once won an Ovation Award), gays and straights. Esther makes a lot of ethnic and mother jokes, the best of which is her description of NPR: "Jewish foreplay."
Despite the contrivances and dubious relationships in Big Night (I didn't believe the Esther/Eleanor love affair for a minute), the play comes off as enjoyable. The actors give splendid performances; the story moves along snappily and brightly. Rudnick has another commercial hit.
Cast:
Max Jenkins, Brian Hutchison, Tom Phelan, Wendie Malick, Kecia Lewis, Luke Macfarlane
Technical:
Stage Mgr: Maggie Swing; Set: John Lee Beatty; Costumes: William Ivey Long; Lighting: Ken Billington; Music & Sound: Karl Fredrik Lundeberg