Images: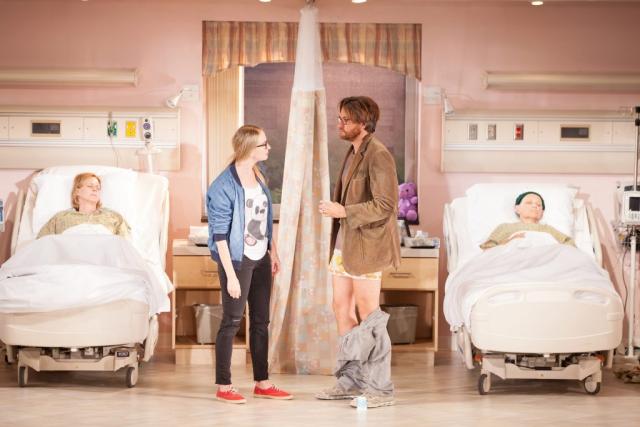 Theater:
Geffen Playhouse - Gil Cates Theater
Review:
Bizarre title, bizarre story.
Halley Feiffer (daughter of cartoonist Jules Feiffer) finds comedy and something resembling love in her cancer-ward play, which has come to the Geffen after its off-Broadway premiere a year ago. Feiffer also appears in A Funny Thing Happened on the Way to the Gynecologic Oncology Unit at Memorial Sloan Kettering Cancer Center of New York City, as Karla, a young, motor-mouthed, bawdy comedy writer whose mother Marcie (JoBeth Williams) is a patient at Sloan Kettering. Zonked out by painkillers and chemo, Marcie dozes while her ramped-up daughter tries out some new jokes on her, most of which have to do with masturbation.
Sharing the ward are Geena (Eileen T'Kaye), another semi-comatose cancer patient, and her son Don (Jason Butler Harner), an uptight businessman who takes exception to Karla's loud voice and raunchy humor. He lashes out at her (over the curtain that divides the room), thereby triggering the love story part of the play.
It takes some time for these two very different kinds of people to get together — in a very funny oral sex scene — but when they do surprising things happen. Character is revealed in unexpected, moving ways; as a result, a play that seemed to be little more than a light, superficial rom-com takes on depth and resonance.
The angel of death is the invisible fifth person in the play, always hovering, ready to claim another victim. That explains Karla's gallows humor; it's a way of standing up to death, defying it.
Maintaining the balance between dark and light is a tricky business; one misstep and A Funny thing could have slipped off its high wire and landed with a thud. Luckily, the play benefits from the production it had in New York, where the director (Trip Cullman) and playwright (Feiffer), working together for the fifth time, were able to do the necessary rewriting and polishing.
As a result, L.A. audiences can now enjoy a well thought-out, expertly acted comedy with a welcome amount of heart.
Cast:
Halley Feiffer, Jason Butler Harner, Eileen T'Kaye, JoBeth Williams
Technical:
Set: Lauren Helpern; Costumes: David Kay Mickelsen; Lighting: Matthew Richards; Sound: Darron L. West; Production Stage Manager: Ross Jackson.