Images: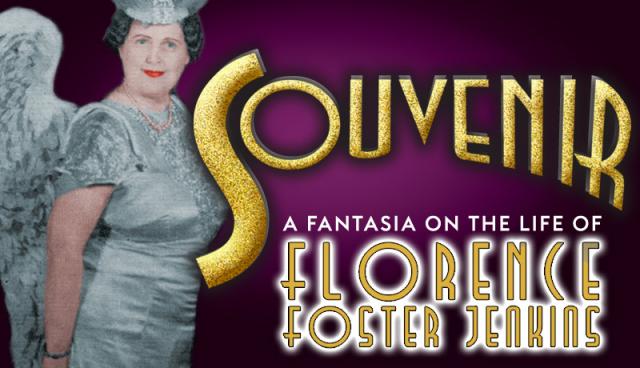 Company/Producers:
Milwaukee Repertory Theater
Theater:
Milwaukee Repertory Theater - Stackner Cabaret
Review:
Florence Foster Jenkins, a New York heiress who gave opera recitals in the 1930s and '40s, couldn't hold a note if she pinned it down with a hammer. Still, Jenkins found a following. She made records and even gave a sold-out concert at Carnegie Hall. The wealthy woman proved that money doesn't only talk, it sings.
Souvenir takes us into her world, and it does so with great skill and craftsmanship by playwright Stephen Temperley. Unlike the 2016 film starring Meryl Streep and featuring Hugh Grant as her much-younger, common-law husband, this musical revue is a scaled-down version with only two actors. It features the astonishing Marguerite Willbanks as Florence Foster Jenkins, and well-known local musician and actor Jack Forbes Wilson as her accompanist, Cosme McMoon.
Souvenir is as much McMoon's show as it is Jenkins's, and it begins with McMoon reminiscing about the 12 years they spent together as a team. It is exactly 20 years after Jenkins's death from a heart attack at age 76. McMoon begins with their early days, when he first heard her off-key singing. Dumbfounded, McMoon recalls that, "I didn't know if I was in the presence of dementia." As they toil for hours each day in Jenkins' music salon, McMoon tries mightily to train her ear. But Jenkins is oblivious to what others may hear – she is interested only in "breathing life into music lovers." And besides, she notes in all seriousness, she has perfect pitch. If McMoon hears anything less, she says, it is his hearing that's to blame.
While Jenkins's singing doesn't improve by one iota over the course of the two-hour show, the relationship between the two becomes closer over the years. McMoon, himself a songwriter, admits he first took the job to pay the rent. But over time, he grows to admire and protect his benefactor. In return, Jenkins softens her approach towards McMoon, eventually calling him "maestro" and speaking to him in Italian and French. She is generous and refreshingly candid. Jenkins's mission is to make the rest of the world love music as she does, and what's wrong with that?
Playwright Stephen Temperly wisely inserts bits of popular tunes of the day in between works by Mozart, Verdi, etc., so the audience isn't inundated with an onslaught of classical music, which Jenkins prefers.
McMoon divulges that Jenkins was fascinated by "Crazy Rhythm," a 1928 tune by Irving Caesar that became a jazz standard. Wilson plays bits of this piece throughout the program. He is so skilled at the piano that he makes it seem perfectly natural to play a tune and deliver a monologue simultaneously.
Marguerite Willbanks is seamless as the unflappable Florence Foster Jenkins. Although both she and Meryl Streep are far more attractive than the actual dowdy dowager, Willbanks manages to immerse herself in Jenkins's quirky personality. One of these is Jenkins's unique singing technique. When required to hit a series of high notes, Willbanks (as Jenkins) blurts out the notes as if struck with a cattle prod between each one.
Although many sequences demonstrate this vocal style, they never fail to earn a hearty laugh from the audience.
In a two-hander, only so much depth may be mined dramatically. Temperley takes care of this situation by transforming Jenkins with a new costume for each of her songs at the fabled Carnegie Hall appearance. As such, we see Jenkins appear in a parade of hilarious costumes (kudos to costume designer Jason Orlenko). Before the concert ends, Willbanks (and her quick-fingered dressers) give us Jenkins dressed as a gypsy, a World War II soldier (this was 1944, after all), and a professor. The highlight of the second act is waiting to see what outlandish outfit Jenkins will appear in next.
Given that Stackner Cabaret subscribers tend to be older, there's no way that Souvenir (starring a 76-year-old woman) could become anything less than a sure-fire hit. During the finale, one finally hears the voice that Willbanks has been hiding all evening. It sends a chill down the audiences' collective spines, and provides a satisfying finish to a highly entertaining performance.
Cast:
Marguerite Willbanks (Florence Foster Jenkins); Jack Forbes Wilson, Cosme McMoon.
Technical:
Set: Lauren Nigri; Costumes: Jason Orlenko; Lighting: Ellie Rabinowitz; Music director: Jack Forbes Wilson; Sound: Zack Berinstein.