Images: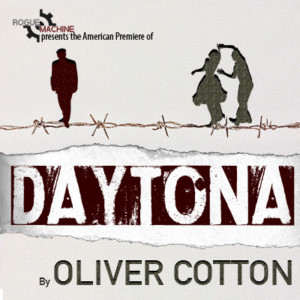 Review:
Oliver Cotton's Daytona is a play about three different things: the need for vengeance and justice, the role of memory in people's lives, and a psychological portrait of some traumatized human beings.
Now in its American premiere at Rogue Machine — after first being performed in the UK four years ago — the complex but engrossing play investigates the tangled relationships between two brothers, Joe (George Wyner) and Billy (Richard Fancy), and Elli (Sharron Shayne), a woman who has loved both of them. The setting is a middle-class apartment in Brooklyn, circa 1986, where the long-married Joe and Elli are living seemingly contented lives. Joe, an accountant, is semi-retired, leaving him with plenty of free time to practice the foxtrot with Elli in preparation for a dance competition at their community center. Then comes the sudden, unforeseen arrival of Billy, a man neither of them has seen for thirty years. He is the catalyst for the drama that follows.
Clad in a shabby jacket and pants and a garish Hawaiian shirt, Billy seems to be something of an oddball, a man under extreme mental distress, barely able to articulate his thoughts, face a hodgepodge of tics and twitches. Slowly we learn why he is such a mess: he has just killed a man in Daytona Beach, shot him with a pistol. He had a good reason to commit this crime, having discovered that his victim was a former Nazi concentration-camp officer, a sadist who arbitrarily and brutally murdered Jews by smashing them on the head with a shovel.
We also learn that Joe, Elli and Billy were all in that camp together, an experience they survived but never forgot. Billy fled Florida and has sought out Joe, not only to tell his story but to ask for his help. He wants Joe to be there when he turns himself into the police, speak up on his behalf, justify his crime in the eyes of the world.
Joe, a sober, tightly controlled, highly moral man, refuses to cooperate. He is shocked by Joe's story; why become a murderer just to kill a murderer? He also has a long-standing grievance against his brother, who walked out on him when they were in business together, disappeared without a trace.
It's not until act two of this slow-moving yet powerful play that we learn why Billy acted in such an extreme, bizarre manner. He and Elli, it turns out, were passionately in love with each other, a fact they hid from Joe. When Elli couldn't muster the courage to leave her husband, the distraught Billy decided to bolt, start a new life somewhere else, under a false name.
The love triangle at the heart of Daytona is given depth and resonance by Cotton, a British actor and playwright who is able to write convincingly about elderly Brooklyn Jews. Cotton has also been able to layer his story with all manner of philosophical themes, such as the proper response to evil, the nature of forgiveness, the meaning of love.
Daytona is, in essence, a Holocaust play, but one that puts its own wrinkle on that immense, much-examined subject. The actors deserve high praise for their diligent and expert work in this intimate-theatre production. Director de Santos, who just recently staged Arsenic and Old Lace at the Odyssey, has somehow gone from farce to tragedy without missing a beat.
Cast:
Richard Fancy, Sharron Shayne, George Wyner
Technical:
Set: Hillary Bauman; Costumes: Kate Bergh; Lighting: Leigh Allen; Sound: Christopher Moscatiello