Images: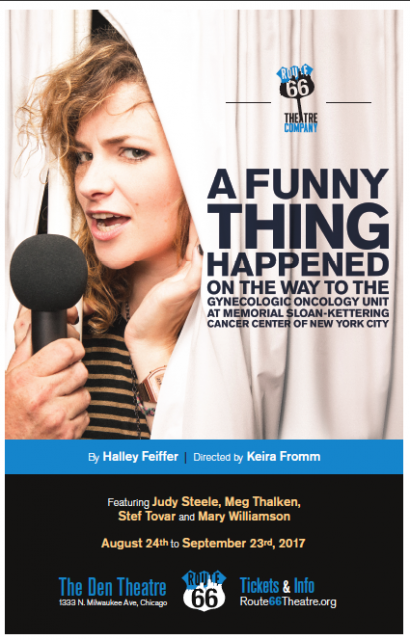 Theater Address:
1333 North Milwaukee Avenue
Review:
Halley Feiffer's play, A Funny Thing Happened On the Way to the Gynecologic Oncology Unit at Memorial Sloan-Kettering Cancer Center of New York City may not hold the record for the longest play title of the last half-century—that honor goes to the German play usually abbreviated Marat/Sade — but it bespeaks a playwright not lacking in chutzpah. When your father is Jules Feiffer, chronicler of button-down malaise in the Eisenhower years, and your play purports to be a romantic comedy, is set in a cancer ward and conducted under the semi-comatose chaperonage of two formidable moms — well, demure restraint is not likely to be your strongest suit.
The dowagers convalescing in the sterile confines of the fashionable hospital referenced in the title are Marcie and Geena, the former recovering from a hysterectomy and the latter awaiting her final rest after a long illness. Paying daily visits to Marcie is her daughter, Karla, a would-be comedienne who passes the time telling her mother jokes in keeping with their custom, while Geena's solitude is mitigated by her son, Don, who keeps silent vigil with the aid of The New Yorker magazine. Gradually, the overaged orphans-to-be come to find solace in each other's company.
What elevates this above generic froth, however, is that Feiffer makes "funny" her operative word, employing a virtual catalogue of laugh-pulling shtick, beginning in the first moments as Karla addresses the unconscious Marcie regarding the merits of a gag involving vibrator rape-fantasies, as Don listens in shocked disbelief on the other side of the dividing curtain. Later we will witness old ladies swapping pottymouth snark, a water-throwing duel, a cute fable of an anthropomorphized condom, a bathroom utilized as a sanctuary for anguished venting and as a shelter for quickie-sex (kudos to Sasha Smith's intimacy design).
Playgoers experienced in sickroom dynamics know that pent-up emotions render ordinary rules of discourse as slippery as the proverbial banana peel. Route 66 director Keira Fromm and a brainy cast led by Mary Williamson and Meg Thalken as the garrulous Karla and laconic Marcie avoid the trap of playing for laughs to convey every hint of filial dynamic embedded in Feiffer's deceptively frivolous repartee. What is death, after all, but the biggest joke of all?
Miscellaneous:
This review first appeared in Windy City Times, 9/17