Subtitle:
Guess Who's Coming for Passover
Images: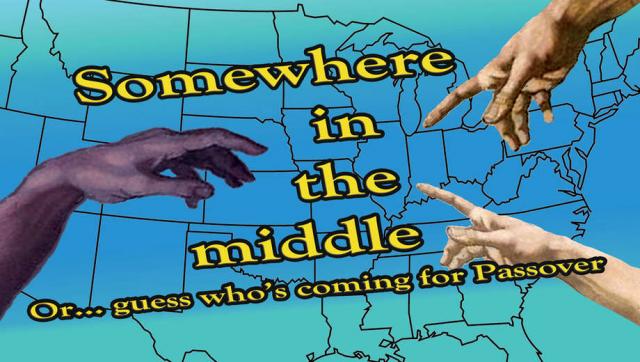 Review:
In Somewhere in the Middle, Gary Lamb's new play now premiering at Crown City, a mid-west family's liberal values are put to the test by their rebellious daughter. Sarah (Julie Lanctot) is a college student who shocks her folks when she comes home with a fiancé in tow. Jamal (Luke King), you see, is not only black but Muslim.
A contemporary riff on the old bromide, "would you want your daughter to marry one?", Somewhere in the Middle takes place in 2007, before Obama broke down racial barriers and became our first African-American president. To some extent, the barriers are still up in David (Richard Van Slyke) and Lauren's (Saige Spinney) all-white household. David and Lauren pride themselves on being free of prejudice; they didn't let a difference in religion — he's Jewish, she's Catholic — stop them from getting married. But they still can't quite get behind their beloved daughter's choice of a mate.
To make things worse, David's mother Roz (Cynthia Kania) explodes with rage when Sarah reveals that Jamal is Palestinian as well. That registers as terrorist in her mind, an Arab who has sworn to destroy Eretz Yisrael.
The 28-year-old Jamal, a college instructor, is hardly an Arab fundamentalist, but he does feel strongly about the fate of his people, and he has no compunctions about standing up for himself. He goes nose to nose with grandma Roz, arguing loudly and angrily with her.
In another writer's hands, the religious and political arguments might have kept heating up, erupted into violence. But Lamb is careful not to let that happen. He is too much of a humanist to settle for an easy, violent way out. The people in his play, even the 17-year-old, goofy Adam (Adam Simon Krist), are capable of change, are able to listen and learn, even as they argue with each other. As David says, "Jews always talk loud. It's normal with us."
What begins to emerge in the midst of all this sturm und drang is a sense of trust, an ability to understand and respect one another. In other words, there is hope for them — and for the human race in general.
Lamb's warmth and optimism as a writer are perfectly captured by his well-rounded, expert cast.
Cast:
Adam Simon Krist, Saige Spinney, Cynthia Kania, Richard Van Slyke, Julie Lanctot, Luke King. Alternate cast: Zach Louis, Susan J. Sommer, Martin Sottile, Sarah Yannie, Tony Tambi
Technical:
Set/Props: Joanne McGee; Costumes: Amanda Walter; Lighting/Stage Manager: Zad Potter