Images: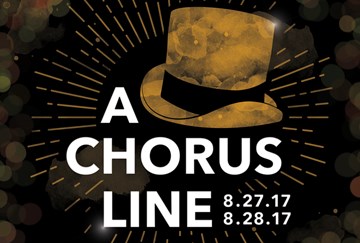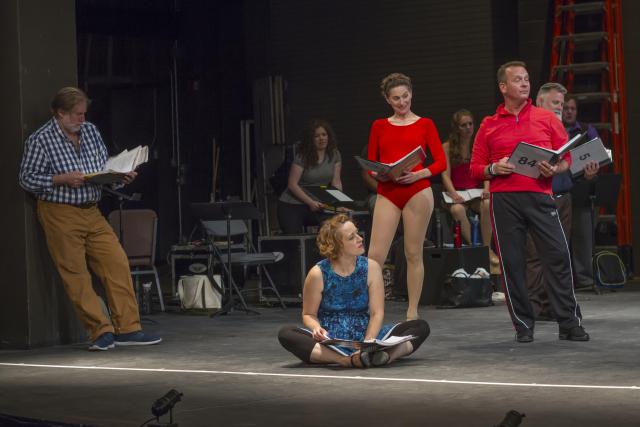 Company/Producers:
Theater RED & Milwaukee Opera Theater
Theater:
Cardinal Stritch University - Nancy Kendall Theater
Director:
Jill Anna Ponasik, based on original by Michael Bennett
Choreographer:
James Zager, based on original by Michael Bennett & Bob Avian
Review:
More than four decades since it forever changed the tide of Broadway musicals, A Chorus Line remains sharp, witty and poignant. Joining forces to present a unique twist on the show, Milwaukee performing arts companies TheaterRED and Milwaukee Opera Theater brought the magic alive again in a two-performance concert that packed a theater in one of the area's universities.
The show's typical cast comprises hungry young artists waiting for their first big break (and/or just a paycheck). But in this concert performance, the characters were played by Milwaukee's veteran theater artists, all age 40+. When called by an unseen choreographer to step forward to the line, these dancers were hardly "unknown" to the audience. These were some of the city's prime movers and shakers in the local music and theater world.
And yet, the show's message was painfully clear: in this world (of performing arts), one is always putting oneself on the line. The group gathered onstage includes several artistic directors, choreographers, music directors and teachers. They represented a spectrum of the arts: some newer companies blended with those that had been around since before A Chorus Line appeared on Broadway in 1975.
Although the actors first came onstage with scripts in hand, they rarely glanced at the lines. With only one week of rehearsal prior to opening night, they were prepared and ready to go. And what a performance they gave! Each actor had been cast for a certain character, and everyone rose to the challenge. It was truly a must-see theatrical event.
Not surprisingly, the show's hit songs were given more than enough of a boost by these veteran performers. Rana Roman, clearly the best singer in the group, gave plenty of punch to her character's rendition of "Nothing." Likewise, Marcee Doherty-Elst, co-founder and producer of Theater Red, was given the choice role of Val. She's the one who belts out the number, "tits and ass" (formally known as "Dance: Ten; Looks: Three"). Actor Karen Estrada also had the audience laughing uncontrollably with her rendition of tone-deaf Kristine.
The show's songs are performed by a pianist and a percussionist (Ryan Capplemen and Michael "Ding" Lorenz). They do an excellent job, despite the lack of a much-needed horn section.
Not to be outdone, the "boys" also rise to the occasion. Tall, lanky Bill Jackson looked the part as Richie, the basketball-crazed kid who eventually turned to dancing. C. Michael Wright gave a nuanced performance as he delivered Paul's perceptive monologue.
Eventually, director Zach (Joe Picchetti) appears onstage, mostly to talk with his former girlfriend, Cassie (Beth Mulkerron). The interaction between them seemed authentic and genuine. Mulkerron makes one of the best cases this critic has seen in terms of Cassie's need to dance. As one discovers, Cassie was thrust into the limelight prematurely by Zach. When Cassie couldn't manage to hold onto her fame, she pleads to return to the chorus. The audience's hearts go out to Mulkerron, as she successfully convinces us to root for her.
There are too many other characters that deserve special recognition for this limited review. But mention must be made of James Zager's choreography, which lends a satisfying theatrical shape to the production. Everyone seemed capable of mastering the dance moves, but the professional choreographers in the cast, such as Karl Miller, add a bit of extra polish. Most of the actors appear in regular dress, although some, such as Angela Iannone (as Sheila) performs in a dance leotard and requisite up-do. The show's "set" exposes the full stage, complete with concrete back wall, etc. A few curtains do not hide the actors who, when offstage, sit in full view of the audience.
This very special "chorus line" will be remembered long after those onstage have gone back to producing – and performing in – other shows around town this season.
Cast:
Joe Picchetti (Zach); Joel Kopischke (Don); Jenny Wanasek (Maggie); David Flores (Mike); Carol Greif (Connie); Mark Bucher (Greg); Doug Jarecki (Al).
Technical:
Music: Ryan Cappleman; Lighting, Antishadows LLC.