Images: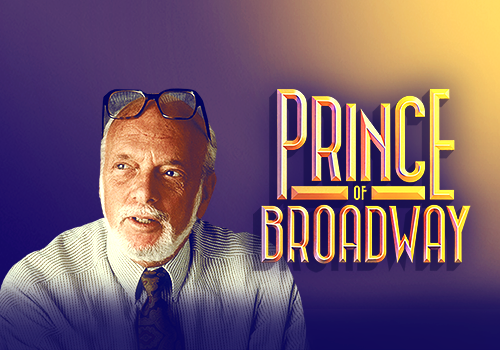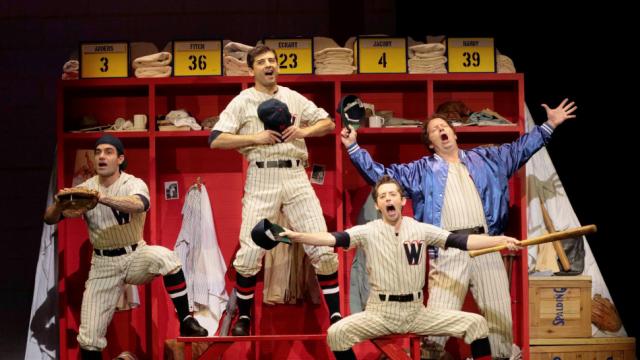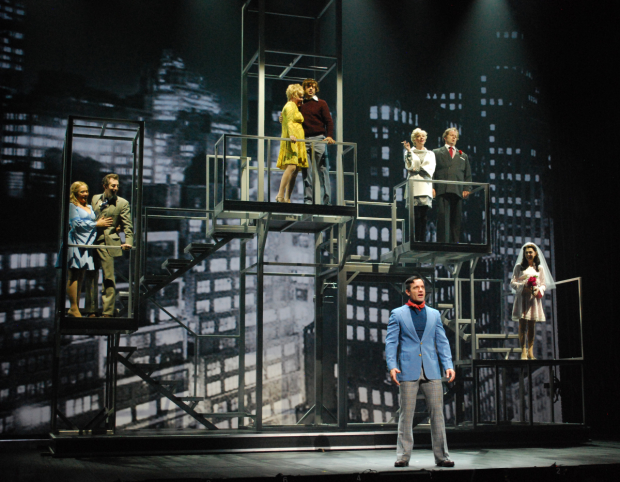 Theater:
Samuel J. Friedman Theater
Director:
Harold Prince & Susan Stroman
Review:
It's next to impossible to review Prince of Broadway objectively. It quickly becomes clear that the show not only defines the life of iconic theater royalty, Hal Prince, but that our lives are wrapped up in the music, too. I wasn't the only audience member to tear up hearing the familiar and evocative harmony of "Heart" from Damn Yankees. How many times have we seen "If I Were a Rich Man" performed by Tevyes on stages both mighty and small? Who can even recall when we first heard the dramatic chords of Phantom?
To be sure, this is a scaled down version of the long-awaited show that might have been. But Beowulf Boritt's backstage set is perfect; after all, most of the work done on any production takes place long before the scenery is completed.
Not everything works as well. Particularly jarring is the device of having the cast members all represent Prince. Glasses propped on their heads, each in turn gives an "and then I presented" speech to accompany the numbers. A long tap dance routine which takes up most of "The Right Girl" is out of place, not only in the production, but also in the context of the lyrics.
Certain song choices can be questioned, too. Why represent the brilliant and under-appreciated Parade with the knock 'em on the head "This Is Not Over Yet" instead of the haunting "The Old Red Hills of Home?"
Nevertheless, a more perfect ensemble cannot be imagined than the fine performers together on the stage here. While all shine throughout, each has a special moment. Tony Yazbeck's "Something's Coming" and "Tonight" make us yearn for a production which would truly spotlight that golden voice; the music seems to pour out effortlessly. There's never been a more heartfelt Evita than Janet Dacal; love the fact that she pronounces Argentina with an "h" sound instead of a "j." Chuck Cooper was obviously born to sing "Ol' Man River;" he's both extremely powerful and totally at ease, no mean feat. Kaley Ann Voorhees is the loveliest Christine, while Michael Xavier comes into his own as the Phantom. When he picks up his beloved in one effortless motion, it's a totally swoon-worthy moment. Bryonha Marie Parham's Queenie is pure joy; teaching Magnolia the dance steps to "Can't Help Lovin' Dat Man," she combines yearning with down home truth.
Special kudos to two leading ladies we've long loved. Emily Skinner grabs "Ladies Who Lunch" by the throat, and has the audience both roaring with laughter and nodding in recognition. If her rendition of "Send in the Clowns" doesn't break your heart just a little, you may want to take your pulse.
Karen Ziemba fans have been waiting a long time for her to finally become the fine character actress who brings such a wealth of talent and experience to every role. She's always been too dynamic to play the ingenue; now, she belts out "So What?" with the power and assurance of one who's been there, done that, and lived to tell the tale.
As for the man himself, what more can be said about now legendary Hal Prince? That he points out that not all his productions have been successful speaks volumes about his understanding of the capriciousness of his business. Nine full-blown flops? Really? Hard to believe with all the successes in his life. He credits good fortune, saying "I'm very lucky to have been born when I was and to have collaborated with artists of that quality," but it's no secret that the last number of Prince of Broadway sums up his philosophy with three simple words: Do the work. For all of us who love the theater, let us be both inspired and grateful.
Cast:
Chuck Cooper, Janet Dacal, Bryonha Marie Parham, Emily Skinner, Brandon Uranowitz, Kaley Ann Voorhees, Michael Xavier, Tony Yazbeck, Karen Ziemba
Technical:
Sets: Beowulf Boritt; costumes: William Ivey Long; lighting: Howell Binkley