Images: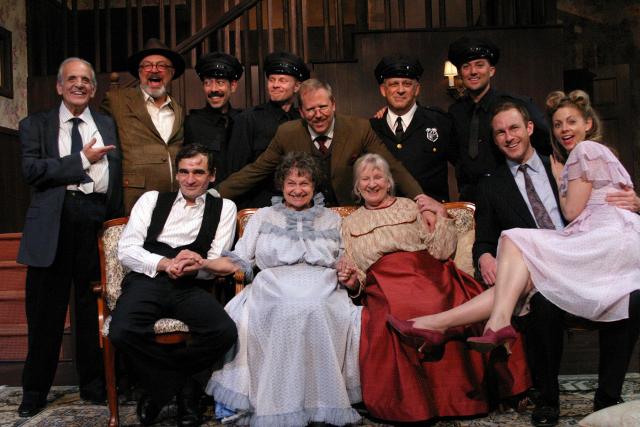 Theater Address:
2055 South Sepulveda Boulevard
Review:
As Walter Kerr said about the 1928 Broadway comedy, The Front Page, the play was like "a watch that laughed." The same could have been said, two decades later, about Arsenic and Old Lace. Written by Joseph Kesselring as a heavy mystery drama, the play was turned into a slick farce by Howard Lindsay and Russell Crouse, who in addition to writing comedies like Life With Father were skilled play doctors. Their uncredited re-write resulted in a hit; Arsenic ran for three years on Broadway and was later a Hollywood movie starring Cary Grant.
Now the Odyssey has resurrected the popular horror comedy, giving it a full-bore production which treats it with much affection and respect. Bruce Goodrich's multi-level, handsomely furnished set ("one of the oldest houses in Brooklyn") is a marvel, ditto Amanda Martin's delightful costumes. Christopher Moscatiello's music track deserves a lot of praise for the jaunty way it underlines the action, keeps things moving.
Director Elina de Santos has assembled a twelve-person cast of actors who are splendid at farce, beginning with Jacque Lynn Colton and Sheelagh Cullen, who play the Brewster sisters, two old biddies who kill their elderly male boarders for "humanitarian" reasons by plying them with arsenic-laced elderberry wine.
Alex Elliott-Funk has a ball playing their equally nutty brother, who is convinced he is the reincarnation of Teddy Roosevelt and is forever running up and down the staircase, tootling away on a trumpet and yelling "Charge!" as he fights the battle of San Juan Hill again.
The other members of the oddball Brewster family are Mortimer (JB Waterman), a drama critic who hates the theater, and Jonathan (Gera Hermann), a thug who bears an unfortunate resemblance to Boris Karloff. He travels with his own plastic surgeon, Dr. Einstein (Ron Bottitta), who tries his best to disguise Jonathan's looks.
de Santos's firm hand keeps the actors from going too far over the top, which is why this revival of Arsenic and Old Lace works as well as it does, despite being nearly eighty years old.
Cast:
Sheelagh Cullen, Alan Abelew, Alex Elliott-Funk, Mat Hayes, Darius De La Cruz, Jacque Lynn Colton, Liesel Kopp, JB Waterman, Gera Hermann, Ron Bottitta, Michael Antosy, Yusef Lambert
Technical:
Set: Bruce Goodrich. Costumes: Amanda Martin. Lighting: Leigh Allen. Sound: Christopher Moscatiello. Props: Josh La Cour. Fights: Jenine MacDonald. Stage Mgr: Morgan Wilday