Images: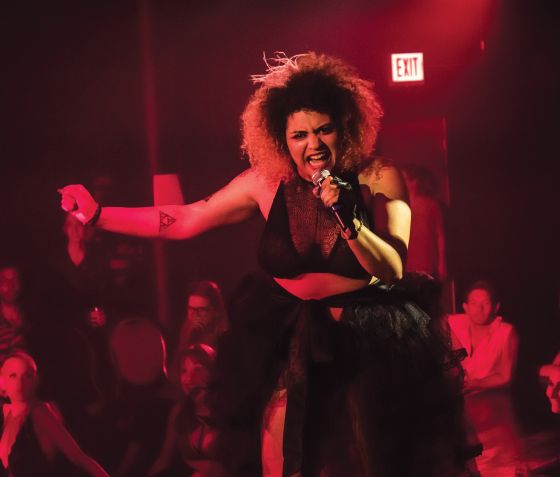 Theater Address:
1333 North Milwaukee Avenue
Review:
The souvenir table in the lobby displays earplugs, T-shirts and dainty leather harnesses. A squad of genderfluid greeters dressed in bits of glittery black material and lots of bare tattooed flesh guide you to your seats in the Den's Bookspan space or mingle in the aisles to the music rolling off the spray-lit walls. A strolling photographer offers to record your presence in this carnival milieu. This is all before the actual show starts, by the way.
Welcome to The Fly Honey Show, ladies and—um, "gentler ladies"—created in 2009 by Erin Kilmurray of the multi-disciplinary artists collective calling itself The Inconvenience, now re-assembled annually for the purpose of sharing in the empowerment that comes of unity in social consciousness expressed in dionysic carousing. This is no sleazy orgy, in other words. The theme celebrated tonight is "Everybody, no matter what your body"—a manifesto affirmed by emcees Mary Williamson, Molly Brennan and Sydney Charles, who proceed to instruct us in appropriate etiquette for the occasion.
The evening's agenda fulfills its promise with specialty acts—some changing from night to night—encompassing physiques and candor rarely seen in this milieu: a South Asian dancer wearing her eyeglasses for a "Devi" (goddess) invocation, for example, or a lingerie-clad gourmand of ample proportions enjoying a cupcake. Back again is the Reverend Butts (played this year by Bear Bellinger), whose revivalist sermon exhorts us to love ourselves and one another. Genderqueer comedian Shannon Noll speculates on her mother's possible bisexuality, while transgender monologuist Elle (pronounced "El") Walker parses the subtext of applying cosmetics.
In between, the athletic Fly Honey hoofers swarm in happy pandemonium, John Cicora and the brassy Fly Honey jazz band provide instrumental interludes, vocalists Maggie Kubley and Becca Brown mash up Rolling Stones with Meredith Brooks under the title "The Sweetest Bitch in the World" and Poetry Slammer Shannon Matesky's spoken-word "Honey Rallies" reminds us what the bees can teach us.
Despite the arena-style configuration of the stage, Fly Honey's two-and-a-half-hour running time cannot avoid a few low-steam moments before Williamson and Brennan join forces to belt forth a penultimate "My Way" (both the Sinatra and the Sid Vicious versions).
For an immersive revel with a cast almost as big as its audience, though, no one can deny the abundance of good, clean, naughty and nonjudgmental fun delivered by The Inconvenience.
Miscellaneous:
This review first appeared in Windy City Times, 8/17