Images: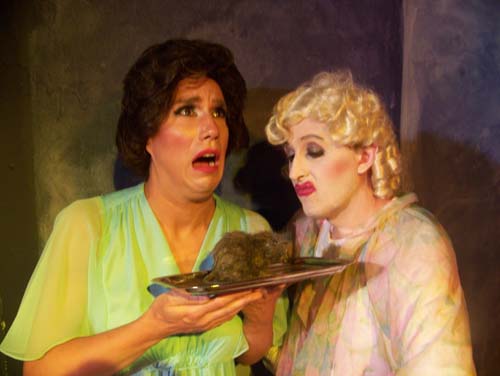 Genre:
Dale Gutzman adapting 1962 Robert Aldrich film
Review:
Milwaukee's "Off the Wall" theater troupe certainly lives up to its name ("off the wall") with its homegrown production of, Whatever Happened to Baby Jane? The play is a revival of its first production in 2011.
This Baby Jane is a completely campy rendition of the 1962 film, starring Bette Davis and Joan Crawford. It's the work of witty and skillful playwright/Off the Wall's artistic director Dale Gutzman, and this is a wonderful way to wrap up the summer.
Audiences can expect laughs aplenty throughout the one hour, 45-minute performance. In true "Off the Wall" fashion, Gutzman steps in momentarily from time to time, giving "instructions" to the poor guy in the lighting booth, or the actors. All this nonsense plays out in full view of the audience (not surprising in a theater with only 40 seats).
Once the show officially gets underway, it's dominated by the two male actors who impersonate the aging leading ladies (Davis and Crawford). In real life, the actresses attempted to kick-start their sagging careers by starring together in this horror film. Recently, their love-hate relationship (both onstage and off) was the subject of an excellent FX TV series.
It is interesting to note that both men (Mark Hagen and Jeremy Welter) switch roles on alternating nights. On opening night, Jeremy Welter did a superb job of portraying Jane Hudson (Bette Davis), a former child star whose talent and popularity faded as years went by. As fans of the film recall, Welter (as Jane) is dressed either in a floral housecoat or a recreation of one of her childhood costumes. She wears a hideous, blonde, curly-top wig (a la Shirley Temple) and enough white pancake makeup and garish lipstick to startle some of the other characters.
Welter has a keen understanding of what makes Jane tick. He gives a performance that demonstrates why Bette Davis earned a real-life Oscar nomination for the film. As in the film, Welter at first seems to have "her" wits about her. But her grasp of reality starts unraveling before the play even begins. The audience sees Jane slip further and further into a state of mental illness. (It should be noted that Gutzman's play borrows quite a few lines from the film.)
Hudson's sister Blanche (Mark Hagen) has the exact opposite career trajectory. As a kid, she sat on the sidelines witnessing "Baby Jane's" immense popularity. Over time, Blanche becomes a high-paid Hollywood star. The play, like the film, explores the sibling rivalry that might exist under such circumstances.
Blanche, the apparent victim of a car accident, is wheelchair bound at the play's outset. Not only is her physical condition a career-ending disability, it gives "Baby Jane" almost complete control in the house they share.
Not to be outdone by Welter, Hagen channels the ghost of Jane Crawford in both style and gesture. He transmits Blanche's growing awareness that "her" isolation — paired with her sister's mental illness — may be a source of real danger. Famous scenes from the film (including Jane's sickening menu of a parrot and a rat for Blanche) are done with aplomb. The best of them (in this reviewer's opinion) is Blanche's tortuous "escape" from her room. Given the dimensions of the tiny stage, Welter must imitate Blanche's long fall down a staircase with only a few actual steps.
The fact that it takes Welter almost as much time to descend from these few steps as it did for Jane Crawford to tumble a long distance down a full-sized staircase is the best gag in the play.
Cast:
Jeremy Welter (Jane Hudson/Blanche Hudson), Mark Hagen (Blanche Hudson/Jane Hudson), Kristin Pagenkopf (Mrs. Bates); Ava Danzer (her daughter), Lawrence J. Luasavage (Edwin Flagg, a musician).
Technical:
Lighting/Set: David Roper. Costumes: Mark Hagen