Images: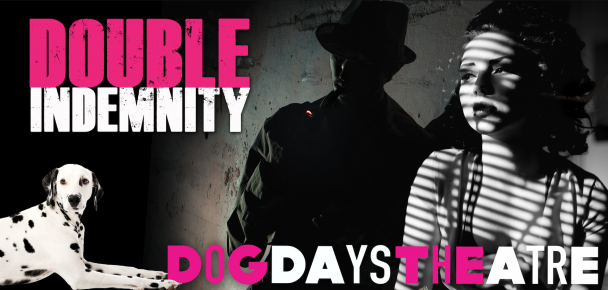 Company/Producers:
Florida State University - Asolo Conservatory's Dog Days Theater
Theater:
Florida State University Center for the Performing Arts - Cook Theater
Review:
In keeping with its dramatic film forerunner, a classic of film noire, the FSU/Asolo Conservatory production of Double Indemnity is scenically and thematically dark. On stage there's a subplot, as in James M. Cain's novel, aside a second romantic plot. Additions like these, however, add more time than suspense or cogency to the play. Maybe that's why it begs to be done entirely, rather than partially, tongue-in-cheek.
It would help if Katie Cunningham were more complex. Or sexier as femme fatale Phyllis Nirlinger to make Walter Huff instantly fall for her. Erik Meixelsperger's Walter, an insurance salesman, comes over as less captivated than chancing freedom from boredom. He's at his best being very careful in his plotting of Phyllis's husband's murder. This makes it understandable that he can fool Mike Perez's perfect shallow investigator Norton.
Sara Linares is winning as Phyllis's stepdaughter Lola whose two loves prove tragic. One is her father, Herbert Nirlinger (Don Walker), and the other is Nino Sachetti, a young man (handsome Wes Tolman), who progressively gets more distant toward her. This coincides with the death of caring Herbert in a fall from the back of a train. Lola tells her suspicions about it to Walter, adding a wrinkle to the plot. So do growing numbers of appearances by Douglas Jones, as Walter's boss Keyes, an old hand at detecting false insurance claims.
The play's directors prove astute in having cast Jones and Walker, experienced actors who bring unadulterated authority to their roles. How could they be subject to ultimate defeat by the young antagonists? Still, murderous surprises are in store.
Technically, tricky shifts in setting predominate, a special challenge somewhat met by Steven Kemp's use of a huge solid wall and grids and interiors' wood flooring. Lighting designer Michael Pasquini completes the pictures, often as if seen or less successfully attempted through slats of window blinds. David Covach's costumes are serviceable and, in the case of an almost overpowering cape-coat on Phyllis, close to laughable.
A number of laughs could have been appropriate to the stage version of Double Indemnity if played for them throughout. But it, unlike the film, is basically glum.
Cast:
Erik Meixelsperger, Katie Cunningham, Douglas Jones, Sara Linares, Don Walker, Wes Tolman, Mike Perez
Technical:
Set: Steven Kemp; Lights: Michael Pasquini; Costumes: David Covach; Sound: Rew Tippin; Wigs: Michelle Hart; Props: Annette Breazeale; Production Stage Mgr: Kelly A. Borgia