Images: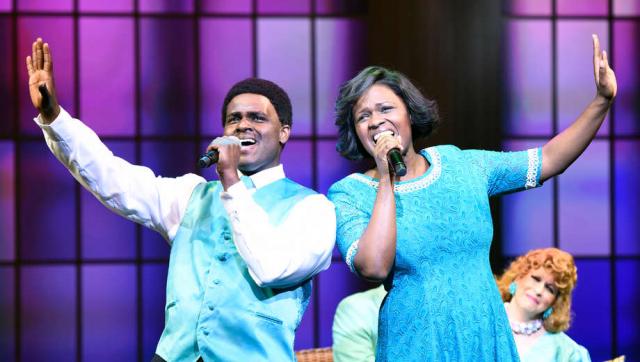 Review:
Los Angeles has been sanctified, thanks to the gospel musical, Born for This, which has just opened at The Broad Stage for a two-week run. First produced at Alliance Theatre in Atlanta, , Born for This is on a road tour which might just end up in Times Square. Yes, the show is that good, and it's also a crowd-pleaser, as the audience response at The Broad proved, with folks often singing along with the performers and saluting them with standing ovations).
Born for This tells the largely true saga of the Winans family, a African-American Detroit clan whose musical gifts brought them fame. Mom and Pop Winans (played by Nita Whitaker and Milton Craig Nealy, respectively) were successful gospel singers who had ten children, four of whom followed in their footsteps (Jonathan Burke, J. Daughtry, Desmond Sean Ellington, Brad Raymond). The two youngest members of the family, CeCe and BeBe (Deborah Joy Winans and Juan Winans), showed such vocal prowess as teenagers that they were recruited by Jim and Tammy Faye Bakker (Chaz Pofahl, Kirsten Wyatt) to sing in the choir of their evangelical TV show. At the time (the 1960s), it was a pretty bold and daring thing for the Bakkers to do. Their PTL empire was based in the Deep South, where racial prejudice was still rampant. That didn't stop them, though, from integrating the PTL choir with the Winan kids, so highly and fondly did they think of them.
CeCe and Bebe worked for the Bakkers for many years, growing into adulthood in the process. A big part of Born for This's first act deals with their PTL days, coping with that era's racism, squabbling over the direction of their lives (with Bebe pushing for them to cross over to the secular musical world). And, of course, they had also to deal with Jim and Tammy, two wealthy and eccentric TV preachers who provide Born for This with much of its humor. In fact, Kirsten Wyatt does such a hilariously satirical number on Tammy Faye that she almost steals the show.
Born for This covers a lot of territory as it follows CeCe and Bebe through life. But the sprawling story flashes by quickly: no scene runs more than a minute or two, set changes are instant, and the snappy dialogue is driven by wall-to-wall music (played by an organ-booming, seven-man band). There are dozens of songs, some of them original, many of them gospel standards. All are sung powerfully and masterfully by the large, talented cast, some of whom play three roles. Of equal importance are Randolph-Wright's skillful direction, Jason Lyons' dazzling lighting scheme and William Ivey Long's fabulous costumes.
Although Born for This sometimes skips too lightly over key story points, such as Jim Bakker's infidelities and BeBe Winan's battles with booze and gambling, it mostly tells a compelling tale. All the Winans, not just CeCe and BeBe, hit some rough patches along the way, including a bad marriage and a death in the family, but in the end, love wins out and things end happily.
The unique thing about Born for This is that it was written by the real-life, pop-star BeBe Winans, who came on stage at curtain-call time and sang a song he had written for the show, much to the delight of the ecstatically cheering audience.
Cast:
Kirsten Wyatt, Nita Whitaker, Milton Craig Nealy, Chaz Pofahl, Deborah Joy Winans, Juan Winans
Technical:
Set: Neil Patel; Costume: William Ivey Long; Lighting: Jason Lyons; Sound: John Shivers; Music Supervision & Vocal Arrangements: Donald Lawrence; Orchestrations & Arrangements: Steven Jamail; Music Direction: Jaret Landon