Images: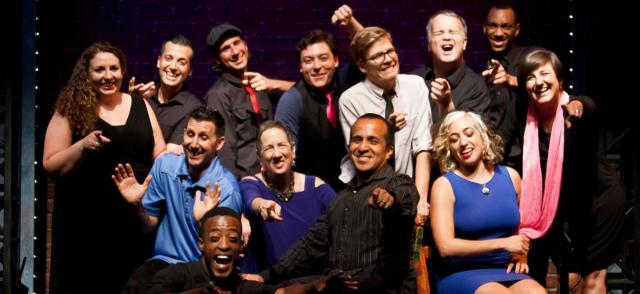 Review:
The last of three days of Florida Studio Theater's 2017 9th Annual Improv Festival continued with a record overall crowd. Taking advantage of a full weekend day, four of FST's venues filled with audiences full of suggestions on which improvisations could be based. From 5 to 11 p.m. I was able to see six shows to review as follows.
COMPLOT ESCENA
After performing yesterday in Spanish, the troupe from Mexico plunged into an English-language improvised "Story of X." She turned out to be a suggested "Girl from Miago" or some such esoteric reference to a South-American tribe. It was unclear whether she was 32 years old or was to be seen in her life 32 years ago. It was clearer that she (Angelica Rogel, obviously an experienced actress) interacted with a suggested man named Bob.
Bob (Juan Carlos Garcia, pliable) was either involved with a gringo flamingo or a gringo man whose favorite (suggested) animal was a flamingo. There was, however, a not-seen-by-the-audience dog onstage as the story unfolded. His very strict father (strong Jose Luis Saldana) is approached by an educator (Juan Carlos Medellin, very professional) complaining about Bob's aggressive behavior with students at school.
Aggression continues as Bob's father has clearly wanted him to be a boxer instead of standing sweetly like a flamingo whenever he has not been beating the dog. Somehow the story veered into a homosexual attraction as the educator brings Bob ice to help in a supposed heart attack. There was a kiss.
The girl whose story was supposed to be highlighted turns out to be Bob's sister who accuses him of stealing her dog. Later, a flamingo gets involved also, and the mention of a girl makes Bob's father think his son's found a girl-friend. What seemed like a let-down of everyone turned out better in the end when Bob punched his father and proved he wasn't a sissy. A closing narrative bit came none too soon, for it seemed improbable that things would otherwise not turn out well for that titled girl and everyone in and out of her family. That wouldn't have been comedy, which this story by Complot Escena was.

AVAILABLE CUPHOLDERS
A major attraction in previous FST Improv festivals, Available Cupholders from Texas this year reduced players from five to three. This actually made their comedy tighter and funnier than ever. It gave Kaci Beeler, the sole woman improviser, a chance to shine in delivering the troupe's kind of natural communication that sometimes previously lacked accent on her part. Here her catalystic talent was on full display.
An appraisal began the show, with Michael Joplin and Bill Stern being given by Kaci some objects to appraise. She chose them from a bag of props once used in FST shows but unseen by the three until now. The men's appraisal, an "Antiques Roadshow" take-off, imaginatively described the history and value of a little hand-held gilded wood harp with loose strings, some stupid broken photographic paraphernalia, and a large blue "bull shit" Playground Ball.
As an object suggesting a central story, the audience chose the harp. Kaci came up with an inscription suggesting it belonged to a very important man, first to build a house in France. He (Bill) somehow got imprisoned, perhaps because the Big Man was his employer and the house was less important to him than an object (Guess What?) he brought from elsewhere to put in it. He and the gal end up fighting.
Changes occur with the arrival of the employer (Michael), a trip to nearby mountains to which Kaci is able to bring the harp, and the employer finishing the aforementioned house and giving her the keys. But did they forget Bill who's more than literally hanging around in the dungeon?
The improv carried on with house and a marriage being completed and a harp being a wedding gift. Its inscription is interpreted as "Enjoy your new home!" But in it, a ghost of a prisoner appeared when the harp was played. A few more shenanigans ended perhaps the best story enacted during FST Improv Festival.
JOE BILL AND FRIENDS
Friday and Saturday nights, Joe Bill, a famed Chicago-based teacher of Scenic and Comedic Improvisation as well as a corporate trainer, assembled a Comedic Improv Super team. Each consisted of a different set of festival improvisers working together for the first time. For Festival Part II, Jo Bill brought on Mike Carr, David Christopher, Will Luera, Ali Reed, Erin Goldsmith and Stacey Smith. (I was happy to see the work of Erin and Stacey, members of Stacked, which I missed the night before.)
To be developed: "Canary: The Musical." Scene: a small town with a mine, where all are seen wielding axes at the start. Joe's dreamgirl leads them in a "Cheerleader Song," but she seems to be finding cheer elsewhere.
Other searches followed but the idea of the canary as a bird became obscure until Joe pointed to it as going through the audience. Then the character Mike played got rescued in the mine. But football players died. There was no really sad song for them—or from me when everything finally came to an end. At least everyone showed a lot of energy.
DAD'S GARAGE
The Atlanta troupe always does well. On an Improvised Vacation, Andy Coen, Perry Frost, and Matt Hogan went, as suggested, to Alcatraz! Somehow they got to The Rock by car! And on the way they stopped at a peach stand, which may have been in Georgia. Yes, it was a long trip but a funny one. This group's inventiveness never lagged.
In Dad's Garage improvisations, people go off on their own adventures before uniting. Perry Frost here went to a journaling meeting. Matt a father of Andy, bribed a woman guard to show him to an electric chair that he hoped to get and bring back. "Everything has a price," he contended. He paid a price for his meandering.
During the Alcatraz vacation, the improvisers had tacos in the prison dining room and then an extended runaround with Murder Pete, occupant of an old, kind of discarded cell. There was an electricity outage and many repercussions. Pete got inside Father's body. Perry had a lot of boysplaining to do to Andy. But eventually the family was reunited...but how and where?
BLANK! THE MUSICAL
Repeating last night's format, the participants improvised to music with "Keynotes B, F, D, and G"—which made what came afterward a bit grim.
TITLE: Pimp-Daddy Cobb (repeated throughout at every chance)
SONGS: "Salad's on Me" (probably the best music and lyrics)
"Pocatello" (place in Idaho, scene of the show)
"Bang, Bang, Long Time" (used sparsely)
FAMOUS LINE OF DIALOGUE; "No more avocados!"
MUSICAL STYLE: Jazz (pretty much followed)
DANCE: Flaccid Periscope (which I never detected use of)

Ali Reed joined the usual group of improvisers and did an unusual amount of dancing.
Another new feature for closing night: a long and involved overture!
The dramatic situation was a drought that caused the Pocatello people not to be able to dig up enough potatoes. Depression over a lack of rain characterized everyone's singing and dancing (and some reaction in the audience). Pimp-Daddy Cobb and a gang from New York got involved. Despite a lively dance at the end, as crops began to appear, this headliner event was too long for the material, which was not as good as in other troupes' shorter musicals.
ALL PLAY
Following tradition, a majority of the Festival performers gathered onstage for a series of games. Adam Ratner of Sarasota organized the affair. From a basket obtaining papers with the name of each troupe and often its director, one after the other paper would be randomly chosen. The troupe named would then appear and perform in an improv game suggested by the others onstage or the audience or the director.
Elimination games proved the most popular. Interviews next. A popular scene imagined a group of three in a submarine looking through a periscope and describing what was seen. Then that was acted out. There was a brief musical about people who died and discovered problems in the after-life.
Probably the best improv was one of the last: Dad's Garage presented an interview about Mount Rushmore in which a man and woman, united at birth, answered all the questions about the Mount with united voices. Many of the questions came from the audience. All the questions and answers were very funny.
"All Play" was all one could wish for at the Festival end near midnight. Organizer Rebecca Hopkins drew well-deserved hearty applause from onstage and off.