Images: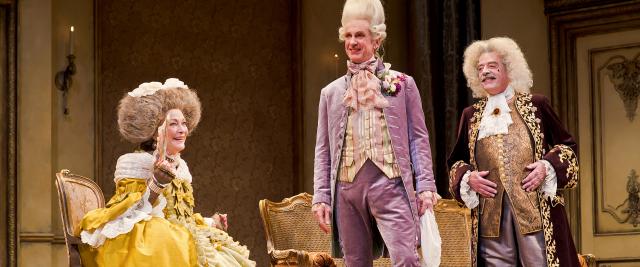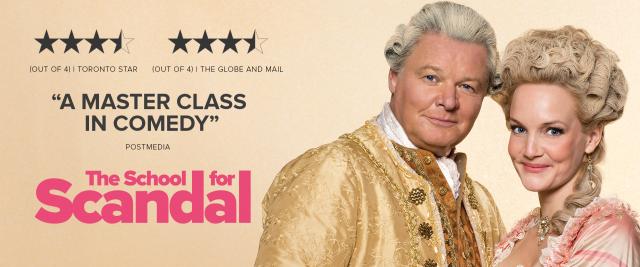 Company/Producers:
Stratford Festival of Canada
Theater:
Stratford Festival of Canada - Avon Theater
Review:
Almost sneaked in at the very end of a dazzling week of seven major openings of Canada's great Stratford Festival's 65th season, Richard Brinsley Sheridan's The School for Scandal is the only production that Stratford's Artistic Director Antoni Cimolino will direct this year. 2017 is Canada's 150th birthday year, and while all seven varying works were impressive stagings of demanding warhorses (the experimental stuff comes later in the season), Cimolino's School For Scandal is really memorable. It has enough values to approach John Gierlgud's supreme internationally touring 1962-63 production.
The play basically satirizes the hypocrisy and mean-spirited gossip and scandal practiced by the privileged, corrupt upper class to subjugate the more moral middle classes in Sheridan's 18th Century London. I always think of Sheridan's line about Lady Teazle always parking her "chair" in front of the milliner's shop. What more telling image of privilege could there be than a sedan-chair carried by several men with a fully dressed woman sitting on it as they lift and take it some distance, then gently lower it so that she can walk into her destination?
Sir Oliver Surface, a wealthy uncle, disguises himself and visits his young heirs-to-be to determine how honest their pretenses of virtue might be. Their family name is Surface. And we are entertained by their surrounding group of hypocrites named (also in the obvious style of the period) Candour, Savage, Sneerwell, Teazle, Careless, and my favorite, Sir Benjamin Backbite. But that whole dramatic structure recedes into situation as one couple, the elderly Sir Peter Teazle and his young wife Lady Teazle, struggle to deal with their disintegrating marriage and adapt to their corrupting society versus their basic decency and affection for each other.
Ultimately, just as Sir Peter kicks the scandalmongers out of his house, the Teazles take over the play and allow it to arrive at a joyful ending, only seconded by the basically decent Charles' triumphing over his two-faced brother Joseph.
In this production, stage magic enriches this story but does not alter or confuse its setting. Julie Fox's lovely designs not only present the play in elegant period, but, with Nick Bottomley's .projections, also shift to modern historical parallels, without jarring discord. The beautiful music is composed and conducted by my favorite musical director, Berthold Carriere.
We laugh at Geraint Wyn Davies showing Peter Teazle's sour disregard for the fun and games of his trivial society and Sir Peter's grouchy disapproval of his lovely wife's extravagant expenses. But his sorrow at not being able to win her love becomes downright heartbreaking. And glamorous Shannon Taylor makes Lady Teazle's bright tweaking of Sir Peter both irritating and also funny. Later we can enjoy her catching on to Joseph's villainy. In the Teazles' eventual confrontation, Wyn Davies conveys Sir Peter's anger, frustrations and underlying terror of losing her; and Taylor is combative, contrite, and simultaneously desperate in her growing affection for him. It remains comic, but I don't think I've seen that complexity and almost jarring reality quite so remarkably played before. In the topnotch cast, every substantial speaking role is more than realized in this delightful heavyweight achievement of a sometimes overlong and lightweight play.
Cast:
Jared Armstrong, Patrick Avery-Kenny, Rod Beattie, Maev Beaty, Michael Blake, Matthew G. Brown, Brent Carver, Farheng Ghajer, Sebastien Heins, M recedes Morris, Monice Peter, Kaitlyn Rietdyk, Tom Rooney, Anusree Roy, Stephen Russell, Tyrone Savage, Johnathan Sousa, Carley Stastney, Shannon Taylor, Emilio Viera, Brigit Wilson, Geraint Wyn Davies, Joseph Ziegler, Tim Ziegler
Technical:
Set/Costumes: Julie Fox; Music: Berthold Carriere; Lighting: Michael Walton; Projections: Nick Bottomley; Sound: Thomas Ryder Payne; Fight Director: John Stead