Images: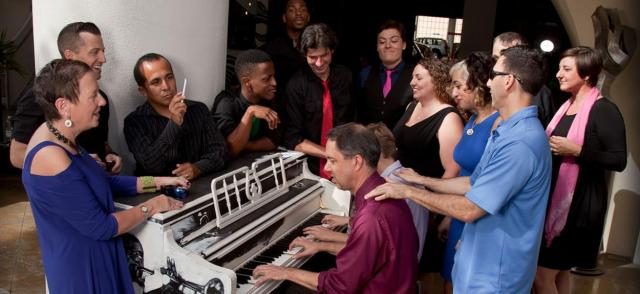 Review:
Twenty-three groups with 94 performers improvising over three days at Florida Studio Theater makes it impossible for one person to see every performance, much less review everything. With a program expanded over previous years, 23 groups from five states and one foreign country (Mexico) participate. As might be expected, Florida is the most widely represented state. As might not, the host city's FST Improv may be the most effective performers overall — or at least on Friday, July 14.
FST IMPROV
Directed by Will Luera, the troupe offered mainly games based on audience suggestions of one-or-two-syllable people's names, to be used in rhyming song. The rhymer who defies elimination from game and stage by continuing the song correctly turned out most often to be longtime FST improvisor Adam Ratner. Darryl Knapp was close behind.
Christine Alexander and Joey Panek worked beautifully together answering questions spontaneously and never breaking apart. In a final interview by Luera or Panek, Alexander shone with her much loved shtick of a frenzied interpreter of the interview for the hard of hearing.
Jim Prosser on piano was a major asset to this and subsequent troupes. Performers in tune with the "stars" mentioned were: Hunter Brown, Chris Friday, Joey James, Emily Levin, Natasha Samrey, and festival newcomers David Anthony, Kihresha Redmond.
BROUHAHA
Katie Dufresne and Stacey Smith's improvised musical took off from a suggestion of "The Hot Dog Man." Apparently he was connected with one girl's father and maybe turned out to be old dad himself. Dialogue was sung in increasing shouts in solos but more often in duets with the girls facing each other.
To liven the performance, each actress in turn brought on puppets. This gave the impression of proceedings not entirely improvised. The best of the puppets was an old man and the most obviously improvised bit was his talking while perched on the bottom of a chair that had fallen over and Katie took advantage of.
A lot of repetition marked this performance, even in the puppets' behavior. Jim Prosser at the piano was the standout performer in Brouhaha's musical.
BLANK! THE MUSICAL
Traditionally, the Sarasota Festival has presented a headline entertainer on the last day and in a long format. This year the headliner Blank! The Musical takes the stage both Friday and Saturday for 70 minutes. It went so overtime on Friday, the 17th, that I missed Stacked, a woman's musical group from Chicago. (As two of the four in that group were in Brouhaha, I possibly didn't miss much new.) The Blank! formula was based on suggestions to fill in an outline, thus:
TITLE OF MUSICAL: "Love Me Tender" (but stressed more in later than earlier)
KEY NOTES: C D F D (played by percussion and keyboard excellent musicians T. J. Shanoff and Mike Descoteaux)
SONGS: Featured are "Tyrannical Tyrant,", "Tirade," "My Lips Are Bleeding" (subsequently somewhat obscure), "Rotten Eggs" (mentioned earlier and later)
INTENSE LINE OF DIALOGUE: ("How superfluous etc.", said so late that it was actually forgotten)
STYLE: Hip-Hop (although departed from frequently)
DANCE: Frivolous Octopus (well executed by Nicole C. Hastings)
The plot featured a fairy tale in which Douglas Widick starred as the Tyrant ruler and got to sing (well and downstage center) solo, preceding a libretto that was duet and ensemble based. Matthew Van Colton kept reminding of the story threads that Michael Girts had introduced before becoming mainly a chorus member.
Kate Cohen helped make sense of a diversion into talk of a plague and death of an important mother. Katie Dufresne contributed largely to hip hop language, The show would have been better ending on the hour with the dance by Nicole Hastings but it went on for another ten or so minutes of repetition about being happy or sad, positive or the opposite.
This "headliner" show from off-Broadway did not live up to previous years' major offerings —at least, not in its first night of two performances. To be fair, the performers' voices weren't bad, not relying on volume to get over. To be sure, that the major movers of the group have been big on cruise ships was telling.
NORTH COAST
This NYC troupe's hip-hop comedy was supposed to take its suggested topic of Radio Broadcast but veered into a commercial on cars and then concentrated on cars. Douglas Widick appeared again with this group that included Katy Berry, who constantly used the "f" word; Geoff Grimwood (game but self-effacing in rhapsody about a car as a "fun machine"; and Megan Reilly, who proved able to talk quickly in rhyme and at times made a duet with Katy Berry.
A short feature included an interview with a young woman from the audience about her family and life. The info gained was turned into a musical fantasy about such a person, much of it straightforwardly comical.
"Music" for North Coast is supplied by Ethan "Exacto" Scott who "beats" vocally into a microphone with hip hop rhythms. He supposedly wants to "create a new sound" with his work. Certainly he created that same sound throughout the performance at FST.Toward the end, the improvisers claimed to be coming to "Public radio from the depths of hell." I have no quarrel with that.