Images: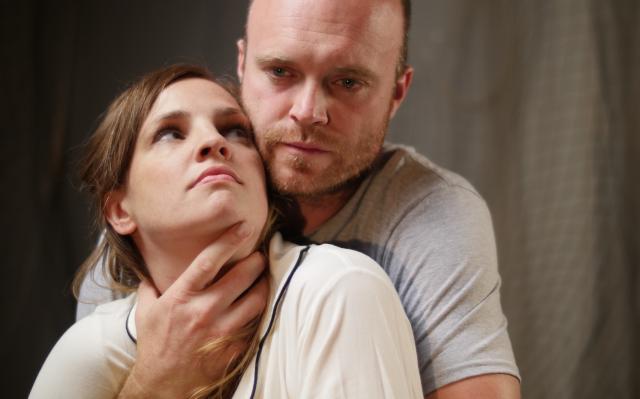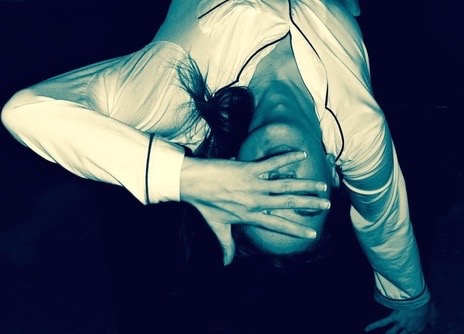 Company/Producers:
Filigree Theater, DualMinds and EVN Productions
Review:
Brilliant writing, directing and acting make Any Night the success it is. A psychological thriller about a woman, Anna (Marie Fahlgren), in extreme jeopardy, Any Night is the work of Canadian playwrights Daniel Arnold and Medina Falghren and was first produced in 2008 at the Belfry Theatre in British Columbia. The play has since been done off-Broadway (and elsewhere) and is scheduled to open this fall at the Filigree Theater in Austin. The latter company is polishing the production during a two-week guest run at Sacred Fools in Hollywood. The director, Elizabeth V. Newman, accurately describes the play as a "fever dream or a nightmare," one that unfolds on a soundscape filled with "stifled screams pierced with echoes of songs half-remembered."
The surrealistic setting is a basement room into which Anna has moved after breaking up with her boyfriend, who then proceeds to stalk her. Or is that an hallucination on Anna's part? Nothing is for certain in this suspenseful, eerie play which goes in and out of reality — if indeed, anything can even be said to be real.
Also living in the house, in the flat just above Anna's is Patrick (Zac Thomas), a hulking, slightly creepy guy who works in a hospital and tries to come to Anna's aid when she has one of her "episodes." Anna, who describes herself as a dancer/choreographer/waitress, has serious mental problems. She acts out her many nightmares, almost all of which have to do with violence: horrible car crashes, knife attacks, sexual assaults. When she isn't dodging injury or death, she is taking heavy meds and trying to dance. Sometimes Patrick ends up in one of her contorted, strangely beautiful dances (choreographed by Erica Gionfriddo), sometimes she dances solo.
There is something dangerous and tense about Any Night from the moment the play commences; it is to Newman's credit that she is able to maintain the tension right up until the final, shattering moments. To explain any further would be to give too much away. Suffice to say that the dark, subconscious vision of Any Night never falters or weakens. It is scary as hell from beginning to end. Thomas and Hahn work beautifully together, capturing the many sides of their strange, tortured characters with an assurance that is quite remarkable.
Cast:
Zac Thomas, Marie Fahlgren, Ben McLemore (voice)
Technical:
Stage Manager: Gary Thomas. Sound: Eliot Gray Fisher. Lighting: Chris Conard. Video: Joshua Scott