Images: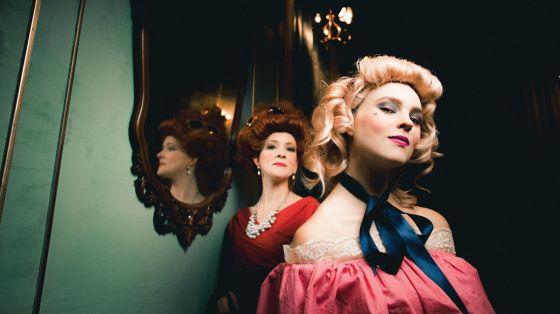 Review:
You have to admire David Ives's commercial savvy: After making his fortune in 1993 with a collection of short, funny, low-budget, actor-friendly sketches suitable for classroom or cabaret, his "translaptations" of obscure pre-19th-century French playwrights have, since 2006, attracted hitherto-undetected legions of theatergoers enamored of actors dressed in big skirts and big wigs making dick jokes and saying "fart" in rhymed couplets.
There's nothing fundamentally wrong with this brand of humor — situation comedy, after all, is based in ordinary people doing ridiculous things (just as "fish-out-of-water" comedy is founded upon ridiculous people doing ordinary things .
Ives's plot in The School for Lies revolves around the frivolous socialite Celimene and her circle of fashionable acquaintances. These include newcomer Frank — whose sartorial taste runs to leather-coated gangster drag, in contrast to the foppish garb in vogue for gentlemen of his class — and whose sole pastime is ranting against the shallowness of his hostess's companions. Nowadays, such overprotective tactics would be grounds for a restraining order, but the young widow welcomes his vituperation, if only for relief from the fawning attentions of fortune-hunting suitors.
Satire is not synonymous with farce, however, and the aim of Moliere's mockery is always rejection of extreme convictions in preference of a moral code stressing tolerance of human foibles, but Ives's irreverent prosody apparently proved so irresistible to its youthful interpreters that the onstage action on opening night resembled a circus more than a symposium, its gaudily wardrobed and garishly painted personnel proclaiming their affectations so exuberantly as to eclipse the exposition informing the motives for their eccentric sallies, often reducing the characters to empty costumes kaleidoscoping in a vacuum.
It's not often that actors under Kathy Scambiaterra's direction are permitted to stray from the text-focused approach to performance that is the Artistic Home's hallmark, but no one can deny the perspiration worked up by the enthusiastic ensemble, however nebulous its inspiration. If you are inclined to giggle at a ribbon-bedecked slacker named Clitander (played with heroic concentration by Ted James) repeatedly addressed by his peers as "Clitoris," this is your perfect low-stress, no-homework, warm-weather entertainment.
Miscellaneous:
This review first appeared in Windy City Times, 7/17