Images: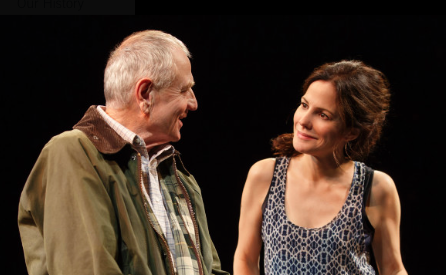 Company/Producers:
Center Theater Group & Manhattan Theater Club
Review:
Simon Stephens's take on the May/September love story formula, Heisenberg, is slight but entertaining, thanks largely to the comedic gifts of its two actors, Denis Arndt and Mary-Louise Parker, who have been performing the play since it was first produced in New York by Manhattan Theatre Club in 2015, with a subsequent Broadway run a year later.
Now Arndt and Parker are strutting their stuff at the Mark Taper Forum in a production which poses some problems for them. Even under normal circumstances the Taper has poor acoustics, owing to its three-sided design. Director Mark Brokaw has made things worse by staging Heisenberg in the round, a decision which forces the actors to turn their backs even more often than usual on some part of the audience. Lines are lost that way, even to audience-members using assisted-hearing devices provided by the house.
That handicap aside, Arndt and Parker are splendid as a team, getting laughs throughout the 80-minute long play, and finding some touching moments, as well.
Heisenberg is an actors' vehicle; there is very little story and not much substance to it. So it's up to the actors to make the play work, something Arndt and Parker do with admirable skill and elan. Arndt plays Alex Priest, an elderly semi-retired butcher who is hit on by Georgie Burns (Parker) in a London train station. Brokaw does not require them to change their costumes, even though the story unfolds over a two-year period. The set is equally minimal: just a couple of tables and chairs.
The comedy comes out of the collision of opposites. Office-worker Georgie is not only much younger than Alex (though we are asked to believe she has a grown son) but is a wild, free spirit who doesn't ever censor herself. She thinks nothing of insulting Alex, even as she's trying to seduce him. She also boasts a lot, telling one lie after another, only to beg forgiveness in the same breath. Parker uses a weirdly strangled voice to make Georgie seem even funnier than she is and scuttles around the stage in a crab-like pose to elicit further laughs.
What's at stake in the play? Will this odd couple really get together for good? Stephens answers these questions a bit slyly, making Georgie act in such an erratic, outrageous way—the chaos theory in physics is referenced; hence the play's title–that Alex would have to be crazy to hook up with her. Yet a little craziness is exactly what the staid, reserved (and sex-starved) butcher needs in his life, Stephens goes on to say.
So boy does get girl in the end, though without much obvious passion. Bottom line is: these two flawed human beings need each other more than they love each other.
Cast:
Denis Arndt, Mary Louse-Parker
Technical:
Set: Mark Wendland; Costumes: Michael Krass; Lighting: Austin R. Smith; Sound: David Van Tieghem; Dialects: Stephen Gabis