Images: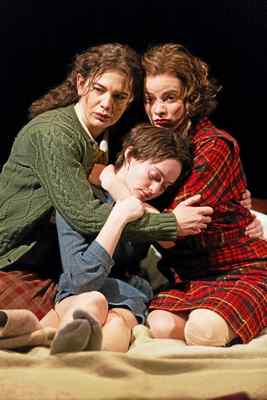 Company/Producers:
Roundabout Theater Company
Review:
There is a definitive time — 1960 — and place — Brooklyn — and characters — an Italian family poised at the brim of a tumultuous decade that will shake up racial equality, gay rights, equal opportunities for women. Unfortunately, playwright Meghan Kennedy's premiere of Napoli, Brooklyn at the Roundabout's Laura Pels Theater tackles an intriguing era with a stereotyped cast and an unsatisfying text.
Under Gordon Edelstein's deft direction with fine actors, Kennedy's play proceeds in short episodes, each focused on a member of the Muscolino family. Napoli, Brooklyn begins in their Park Slope tenement kitchen, where long-suffering matriarch Luda (Alyssa Bresnahan) talks to an onion, a stand-in for God whom she feels has forgotten her. Luda's onion, with layers to peel back, reappears throughout the play, in the bedroom, the kitchen and delicious meals around the kitchen table.
The patriarch, Nic (Michael Rispoli), is physically and emotionally brutal. Wife, Luda, tries to keep peace with their three daughters. The eldest is ungainly, illiterate Tina, played by Lilli Kay, ordered by her father to quit school and work in a tile factory to help support the family. The youngest is a spunky 16-year-old lesbian, Francesca (Jordyn DiNatali), and the middle child, Vita (Elise Kibler), audacious and mouthy, stood up to her father who severely beat her. She was sent her to a convent to live with the nuns where Vita lost any faith she had. Each character is a convenient symbol of the social upheavals to come.
Three supporting characters add to the story. Francesca's best friend is Connie Duffy, played by Juliet Brett, and they are secretly in love. They plan to steal away on a ship and flee together to France where they dream of living a free and creative life. Connie's widowed father, Albert Duffy (Erik Lochtefeld), is a likable neighborhood butcher with an eye for Luda. In the factory, African-American Celia Jones (Shirine Babb) teaches Tina how to be a friend and how to accept friendship.
Edelstein paces the play leisurely until the end of Act I, when a sudden thunderous and violent explosion seems to shake the theater, filling the stage with dust and debris. Ben Stanton's lighting effects and ear-shattering sounds by Fitz Patton are frightening in their realism of the disastrous accident. (In the lobby is a display of the actual event that took place in December 1960.) Act II takes on a distinctively new feeling of new directions for everyone and an expanded generation gap between parents and children.
Eugene Lee created a clever single set that allows the short scenes to play out simply. Along the top of the stage hang symbol of various locations, a crucifix, shop signs, a stained glass church/convent window, a street light stands on the side of the stage.
The cast is adept but characterizations are only as credible as the script allows. Rispoli is his most convincing in barbaric moments, downplaying his reasons for his frustration and resentment. More persuasive is Alyssa Bresnahan as the enduring wife and mother, who occasionally shows moments of the girl she once was, dancing with Francesca and Connie, typical teenagers with a secret. Lilly Kay hints at Tina's unacknowledged promise when she lets Celia teach her to read and we can believe that she might be more than a factory worker.
Despite the play's intentions of authenticity, there is both too much and too little. It lacks convincing nuances of characterization, and the text feels stuffed with archetypes. At the end, Napoli, Brooklyn does not portray much more than another dysfunctional family.
Cast:
Lilly Kay, Shirine Babb, Alyssa Bresnahan, Elise Kibler, Jordyn DiNatale, Erik Lochtefeld, and Michael Rispoli
Technical:
Set: Eugene Lee: Costumes: Jane Greenwood; Lighting: Ben Stanton; Sound: Fitz Patton; Wigs: Tom Watson; Dialects: Stephen Gabis; Fight Directors: Rick Sordelet and Christian Kelly-Sordelet
Miscellaneous:
This review first appeared in CityCabaret.com, 7/16