Images: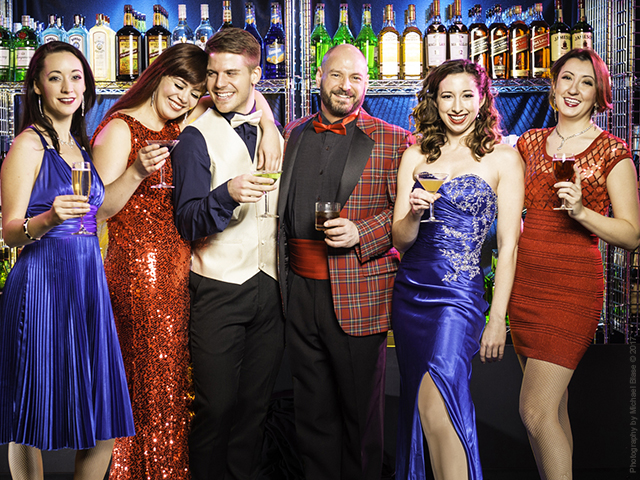 Review:
We live in a crazy busy world. With jobs, families, and other responsibilities, there just isn't a whole lot of time to hang out with our friends. Add to this the sense that everyone is on the phone, all the time, and the very pleasant notion of a leisurely brunch with pals sinks to the bottom of the to-do list. This is the dilemma faced by four modern, over-scheduled, over tech-connected New Yorkers who really want to get together but just can't fit socializing into the schedule. We follow them through their day, and along the way, receive a painless education into the world of the spirits — alcohol, that is, not ghosts.
As a pretty fine enticement, we're treated to three specialty drinks during out stay: A Bloody Mary, an Irish Coffee, and a Bellini. It's a good idea to arrive a half-hour before the show, the better to load up on the munchie selection of baked goods, cheese, pepperoni, and pickles. You get to choose what you want in your Bloody; as with all the drinks, you are never pressured to consume alcohol, but if you do, you must be able to prove that you're 21 or older. There's a large carafe of water on the table, so remember to hydrate as you drink.
The talented and versatile cast sing a cappella throughout the show, and the pleasant songs, especially "Let's Do Brunch," fit in with the dialogue, which is largely informative. If you didn't know the meaning of umami when you came in, you will by the time you leave. You'll also find out that the Bloody Mary was invented by a Scotsman, coffee came into favor in America to spite English tea drinkers and their taxes, and that the Brazilian boom in coffee was largely beholden to seduction and the tango.
There's a puppet show to explain that espresso is a way to make coffee, not a roast. And if you're not enchanted by the demonstration of how cream floats on the top of Irish coffee, you've already had too much to drink. All this is presented by the effervescent cast, who are dressed at various times in an elf costume, a fake beard, and even as a goat.
The "Bubbles" number is performed in top hats, with canes. My only note of criticism is that the Bellinis were served warm, a major no-no. Chill that champagne! In 1531 Benedictine monks thought the bubbly was "The devil's wine." It is a nod to the advancement of civilization that we know the opposite to be true.
Actors often work as waiters to supplement income from their artistic endeavors. Here, we have waiters/bartenders/teachers, each actor with unbeatable energy and charm. They're funny and attractive, and even without the beverages, this show would be sparkling. But gotta say, the drinks really put it over the top for me.
Cast:
Nicole DiMattei, Luke Schaffer, Alex Herrera and Sarah Hinrichsen
Technical:
Costumes: Anthony Caporale; Lighting: Andrew Orsie