Images: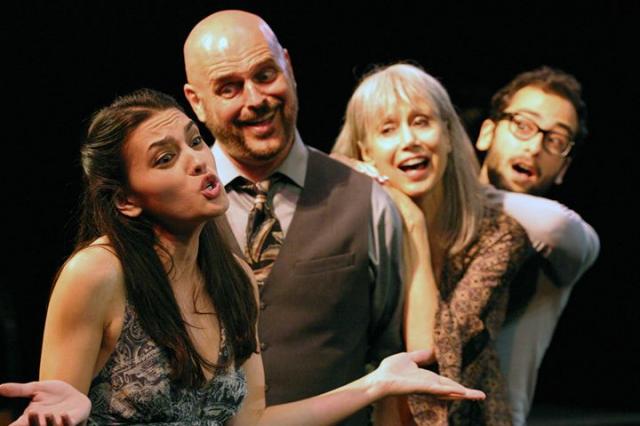 Theater Address:
2055 South Sepulveda Boulevard
Choreographer:
Imani Alexander & Dara Weinberg
Review:
Jacques Brel is Alive and Well and Living in Paris was first performed off Broadway in 1968, where the revue ran for several years and was released by Columbia Records in a two-box set that made the hit-parade charts. The Belgian-born Brel became a major influence on such artists as Leonard Cohen and David Bowie, thanks to the English translations of his French-language songs by Rod McKuen.
Now the Odyssey has revived the revue that won Brel theatrical fame in the USA, with four local singers — Marc Francoeur, Susan Kohler, Miyuki Miyago and Michael Yapujian — admirably handling the vocal chores. As director Dan Fishback said in a program note, Jacques Brel has no linear plot or immediately recognizable cast of characters, which makes it the world's first libretto-less musical. In reality, it's a one-man musical with a cast of four. Two women and two men portray one voice. The words are Brel's, the opinions, insights and razor-sharp wit are Brel's. The show paints a character study of Brel himself, and also a picture of Western civilization in the latter half of the 20th century."
Brel comes out of a tradition of chanson (lyric-driven French songs) that goes back to the Middle Ages and includes such other modern interpreters as Juliette Greco, Charles Aznavour, and Edith Piaf.
Love is one of Brel's favorite subjects, but he usually talks about it in a bittersweet, melancholic way, especially in the closing number here, "If We Only Have Love," which wistfully points out how much better life would be if men and women truly could love one another.
Old age, dashed hopes, war, poverty, and the battle for survival were other favorite subjects, but there was much joy and bawdy love of life in Brel as well. It's no wonder why his songs connect with people; he bares his soul at all times and communicates in a deep, fervent way.
The Odyssey's production takes place on a near-bare stage, though Alex Kolmanovsky's overhanging sheets of shimmering white plastic soften and humanize the proceedings. A top-notch quintet led by pianist Anthony Lucca plays Brel's score with warmth and finesse, and the choreographers, Imani Alexander and Dara Weinberg, plus director Fishbach, do equally fine work in positioning and moving the hard-working singers around the stage during the course of this two-hour-long show.
Cast:
Marc Francoeur, Susan Kohler, Miyuki Miyagi, Michael Yapujian
Technical:
Set: Alex Kolmanovsky; Costumes: Denise Blasor; Lighting: William Adashek