Images: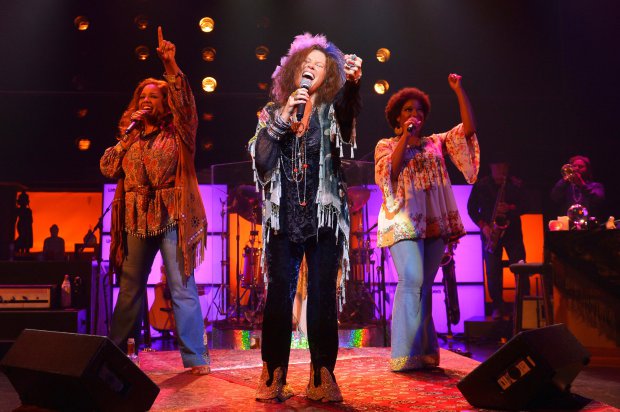 Company/Producers:
American Conservatory Theater
Review:
The psychedelic 1960s found a home in San Francisco's Haight-Ashbury district; so, where better than to celebrate the 50th anniversary of "The Summer of Love" than in the heart of San Francisco, seeing A Night with Janis Joplin?
This sizzling, soulful, high-energy creation – more concert than musical, actually – focuses on the brilliant-but-short life of Janis Joplin. As most of us know, Janis was a hard-drinking, drug-taking blues singer from Port Arthur, Texas. She learned to translate her background in blues into a rock and roll beat and rose to superstardom as the lead singer for Big Brother and the Holding Company.
This writer had a chance to see the show a couple of years ago in Milwaukee, after it opened in Portland, OR and played at the Arena Stage in Washington, DC and the Cleveland Play House. Luckily, Mary Bridget Davies played Janis in the Milwaukee version before the show headed to Broadway, where Davis received rave reviews (and a Tony Award nomination) for her performance.
Although Davies wasn't a dead ringer for Janis Joplin, she sure channeled the singer in her words, her passion, her gestures and her command over the on-stage band behind her. Like Janis, Davis is slightly plump and had the same wide grin associated with the famous singer.
In San Francisco, one finds even less resemblance between Kacee Clanton and Janis Joplin. Clanton is taller, thinner and has an entirely different facial structure than Janis. Still, she does a helluva job in recreating the movements and tricky vocal style which made Joplin stand apart from the other singers of her time. Taking frequent swigs from a bottle of Jack Daniels doesn't even slow Clanton's performance one bit; in contrast, Davies seemed to get a bit sloppier in her movements as the show went on and she got progressively more inebriated.
There isn't much biography in this tale of unknown kid-rising-to-stardom; the show is propelled by Joplin's rendition of songs such as "Summertime," the mournful "Nobody Knows You When You are Down and Out," 'Cry Baby," and the rousing "Me and Bobby McGee." Interspersed between Joplin's songs are appearances by the black blues singers who influenced her, such as Bessie Smith, Nina Simone, Etta James, and Aretha Franklin. These characters are brought to life by a wildly talented group of singers who nearly bring down the house as they go through some of their hits. Poignantly, Joplin occasionally joins them.
But this is Janis Joplin's show, and the other singers often slip away after delivering one of their hits. The excellent back-up band, however, never gets a break. In the large Geary Theater, the band had an authentic, nicely mixed sound which helped to recreate the aura of the 1960s. The blue-tinted lighting and psychedelic images projected on a screen further create an era in which young people protested the Vietnam war and danced joyfully at music festivals such as the famous one in nearby Monterey Bay. Thankfully, the numerous table lamps that once were scattered around the show's set are gone, replaced by the projection screen. While the images are an obvious attempt to set the mood, it still seems to work much better.
Clanton allows us to catch a glimpse of Janis Joplin's on-stage popularity, but the script doesn't even hint at some the star's equally startling off-stage antics that were familiar sights in San Francisco. One of these was a psychedelic-colored Porsche that Janis drove daily. She reportedly loved the car and its message echoing the "love, peace, freedom, happiness" movement.
Not surprisingly, the music has lost none of its power over the years. The show ends with Joplin's famous, satirical song, "Oh, Lord, Won't You Buy Me a Mercedes Benz." She goes on to sing, "my friends all have Porsches." Well, eventually, she did, too. The show delivers a great concert experience, and for that, we are eternally thankful.
Cast:
Kacee Clanton (Janis Joplin); Sharon Catherine Brown (Joplinaire, blues singer, Chantel); Ashley Tamar Davis (Aretha Franklin, Nina Simone, etc.); Tawny Dolley (Etta James, etc.).
Technical:
Set: Rob Bissinger; Costumes: Amy Clark; Lighting: Mike Baldassari and Gertjan Houben; Sound: Ben Selke.