Images: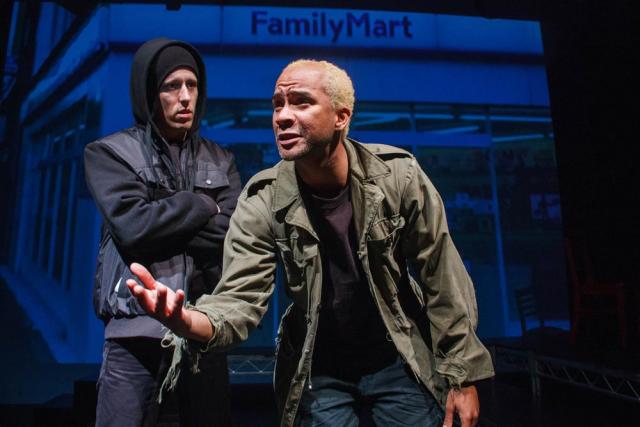 Theater Address:
Bergamot Station, 2525 Michigan Avenue
Review:
Almost Equal To, by Swedish playwright Jonas Hassen Khemiri (translated by Rachel Willson-Broyles), is an all-out assault on capitalism. The play's U.S. premiere at City Garage is directed by the company's artistic director, Frederique Michel, always a friend to post-modern playwrights like Khemiri.
Michel does an excellent job of making coherent Khemiri's complicated, multi-sided story in which the actors play two or three different characters and the action jumps back and forth in time. Khemiri also varies his theatrical techniques, mixing naturalism, absurdity and Brechtian alienation to achieve his goal of showing just how abominable and inhuman capitalism can be.
Andrew Loviska takes on the challenge of portraying the play's two alternating protagonists. The first is Mani, a college instructor with an economic scheme to make the world a better place by melding socialism and capitalism. For all his highfalutin ideas, Mani is fiercely ambitious when it comes to his academic career, willing to sell his soul to achieve tenure. His wife Martina (Lindsay Plake), who works as a cashier at a mini-mart, is equally desperate to move up the economic ladder, even if she has to steal from the register to do it.
Loviska's second challenge is to portray Andrej, a Russian immigrant driven to pull himself, his mother (Sandy Masson) and obnoxious younger brother (Jeffrey Gardner) out of poverty. Stymied by the lack of opportunity, Andrej takes his resentment out on a homeless guy (Johanny Paulino) who, he insists, is faking poverty and getting rich from his panhandling act.
The other characters include Natasha St. Clair-Johnson as Martina's alter-ego, Ann Bronston as an uncaring employment agency lady, and Bo Roberts as a raffishly-clad 18th-century chocolate-maker/economist. Roberts speaks directly to the audience with a wicked gleam in his eye and tongue tucked firmly into cheek, providing this dark, hard-hitting play with some welcome moments of humor.
Skilled acting and directing, and solid production values (including evocative video projection), combine to make Almost Equal To a provocative night in the theater.
Cast:
Andrew Loviska, Bo Roberts, Johanny Paulino, Lindsay Plake, Natasha St Clair-Johnson, Sandy Mansson, Jeffrey Gardner, Ann Bronston
Technical:
Set, Lighting & Video: Charles A. Duncombe; Costumes: Josephine Poinsot; Sound: Paul Rubenstein