Images: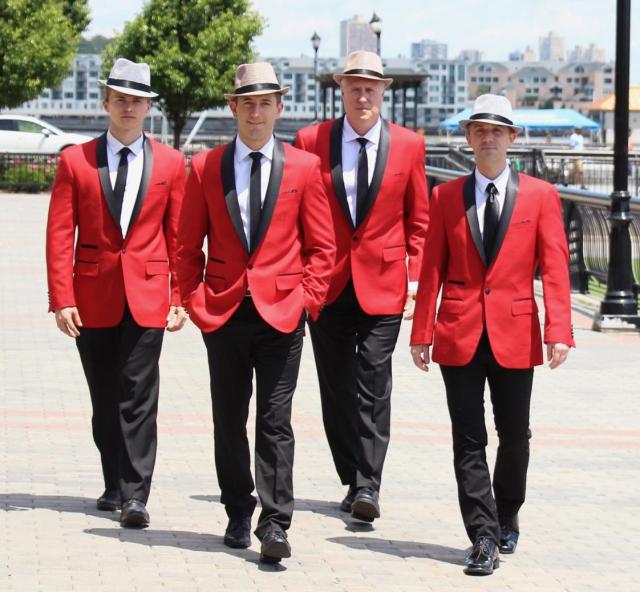 Theater:
Florida Studio Theater - Court Cabaret
Review:
When they descend from staircase to stage, the Jersey Boys in red-jacketed tuxes look like the combo of nightclub and operatic concert artists they are. As they start the second half of their program, their grungy outfits tell that they're going to be rockers. Somehow they transition back to singers well suited with white-jacketed tux and the kind of send-off songs that soar. All well planned and executed.
Because they've just returned from a tour of Europe, they recapitulate their tuneful travels. A British take-off, using flash lights to illuminate their moving stiff upper lips, is followed by a stay in Paris. They've gone "Beyond the Sea" to don berets and sing the original of that song, "La Mer", like natives. Naturally, Brian Noonan leads his three cohorts admitting "I Love Paris."
While in France, the group remembers Jersey-born Sinatra "In Other Words" and do well with Elton John's song from the film, "Moulin Rouge." Then the group "Come Back to Sorrento" in Italian! While in Italy, they mix opera, rock 'n roll, and pop.
Before an Intermission, these Jersey Tenors are back home. Because they're associated with raising funds for the Wounded Warrior Project, they tell of their songs in honor of veterans. They do a strong "Battle Hymn of the Republic" but end softly.
In their second program half, the boys appear in hippie and grunge outfits to do appropriate music like "O What a Night." They do some "Cool" interaction with their audience, becoming the Rhinestone Jersey Boys. Noonan leads off on "Greased Lightning" and then brings in the raucous group. Danny Calvert insists on a Beach Boy number, and there's more than one, with young Cameron Johnson letting his long hair down.
Finally, back in tuxedos, they do solos, starting with Noonan's "Shut Up You Face" — parental guidance to him. They get to show off their operatic talents, as Cameron Johnson sings a beautiful "Granada" and Vader Thurgood manages to sound like an operatic tenor while accompanying himself on his guitar. The songs now feature hits by Jersey singers like Bruce Springsteen and Whitney Houston.
All together at the end there's a Broadway medley with the near-operatic feature being songs from "Les Miz." It's a fine end the program, which benefits tremendously from the keyboard wizardry of Melissa Yanchak. Too bad she's off to one side, because she's as pretty as she is talented--but it's "The Jersey Boys" who are titularly featured.
Cast:
Danny Calvert, Cameron Johnson, Brian Noonan, Vaden Thurgood; Keyboard, Conductor: Melissa Yanchak
Technical:
Lighting:Daniel T. Polk; Sound: Thomas Korp