Images: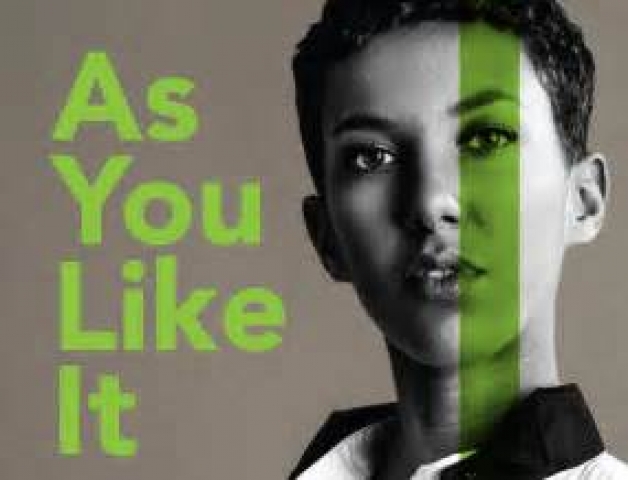 Company/Producers:
California Shakespeare Theater (Cal Shakes)
Theater:
Cal Shakes - Bruns Amphitheater
Theater Address:
100 California Shakespeare Theater Way
Review:
As part of the American Theater Critics Association visit to San Francisco, we were conveyed by vans to the stunning campus of Cal Shakes. It features an al fresco amphitheater for its productions, in this case, As You Like It. We were warned to bring layers as during evenings temperatures are known to plummet. But it proved to be an unusually hot June day that resulted in a balmy evening under the stars. It was a delight to hear the occasional bird chirping.
This delightful evening of comedy was brilliantly and succinctly directed by Desdemona Chiang. We enjoyed a highly accomplished group of actors in a production that evoked howls of delight from the audience.
What appeared to be a "bare pipes" set turned and morphed in the stunning design by Nina Ball (a presenter during another ATCA panel). This proved quite a contrast to the more conventional naturalism of her set for The Roommate, which we also attended as a group. The change results from an elaborate revolving apparatus with a steel-beams construction.
Utterly contemporary is the gender bending and identity legerdemain which was the norm for the Bard. On the Elizabethan stage, female roles were performed by males—particularly pretty boys as girls. In this case the compelling and accomplished African-American woman, Jessika D. Williams as Rosalind, displays multiple levels. She is a woman playing a man passing as a man. If you follow that get back to me. But with zest and skill, she makes that entirely plausible.
Other delights in this production included the older and more seasoned players. The superb James Carpenter doubled up as Duke Frederick and Duke Senior. There were delightful comic touches to the Touchstone and Adam of Warren David Keith. Indeed it takes a lifetime to master Shakespeare. It makes one wonder at the temerity of Callendar putting rookies on stage. And, as always, there was the utter enchantment of the Forest of Arden. Surrounded by nature we could appreciate the unique and resonating responses of the conflation of reality and imagination.