Images: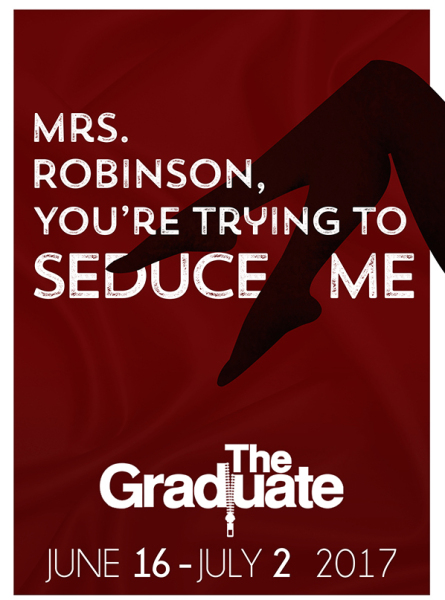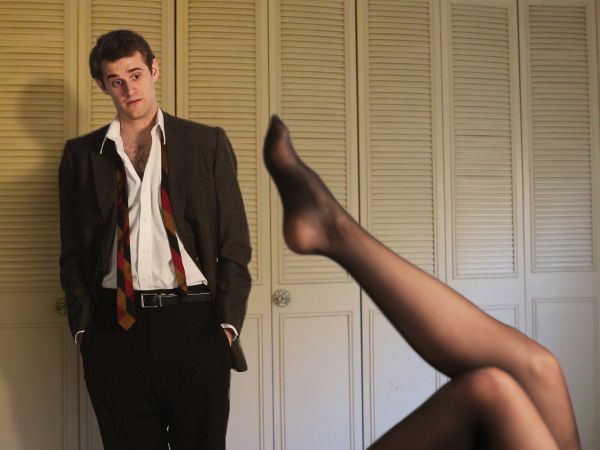 Review:
There's a fresh breeze blowing through Palo Alto in the form of a play calledThe Graduate. While many audiences are familiar with the ground-breaking 1967 film, there is still much to explore in this coming-of-age play.
But first, the film that started it all. It featured Mike Nichols as director and had a dream-team cast: Dustin Hoffman as Benjamin, a disillusioned college graduate; Mrs. Robinson, an older woman and neighbor, played by the late Anne Bancroft; and her daughter, Elaine (Katherine Ross). Furthermore, Nichols was so intent on including songs from Simon and Garfunkel that he suggested they turn an unknown and unfinished ditty called "Mrs. Roosevelt" into "Mrs. Robinson." History was made.
As a play, The Graduate had a Broadway run in 2002 at the Plymouth Theater. In this production, sultry Kathleen Turner played Mrs. Robinson, Jason Biggs was Benjamin, and Alicia Silverstone played Elaine.
The non-Equity Palo Alto Players have launched their version of the play this summer. Notably, unlike the film and Broadway production, Palo Alto's Mrs. Robinson never appears naked. As the character of Mrs. Robinson, actor Betsy Kruse Craig keeps on her sexy black underwear, slip, and stockings. This was a well-considered move on the part of director Jeanie K. Smith. One can hardly imagine a more embarrassed and awkward Benjamin if she had removed all her clothing.
Although Max Tachis can't erase memories of Dustin Hoffman as Benjamin, he nonetheless captures our attention throughout the show. At first, he demonstrates defiance when his well-meaning parents (Shawn Bender and Raegena Raymond-Brunker) beg him to come down from his room. There's a party going on below, with relatives and friends gathered in Benjamin's honor. Tachis stands his ground and refuses to mix with the crowd, much to his parents' dismay. One imagines this bright lad doesn't want to be prodded about a future that he simply can't imagine right now.
He regrets his abrupt decision almost instantly. Into his room saunters a slightly inebriated neighbor, Mrs. Robinson (a terrific performance by Betsy Kruse Craig). At first, Benjamin is stiff and polite with her. He is terribly uncomfortable with the situation, and tries repeatedly to eject her. However, she is not easily swayed.
True hilarity reigns when Mr. Robinson (Mark Novak) knocks on Benjamin's door to announce that his business flight has been canceled, and he is looking for his wife so they can drive home together. Benjamin stutters a semi-reasonable explanation when Mr. Robinson walks in. After this nightmarish episode, Benjamin seems to make an entire summer out of floating in the pool and, later, watching TV. He spends his nights in a hotel room having sex with Mrs. Robinson. His perplexed parents demand that he at least make a date with the Robinson's daughter, Elaine. She is about Benjamin's age.
At Mrs. Robinson's request, Benjamin tries to make his first date with Elaine a complete disaster. He takes her to a sleazy stripper bar. Completely flummoxed by Benjamin's attitude, Elaine demands to be taken home. When she starts crying, he starts feeling guilty. Before allowing her to leave, Benjamin finds that he and Elaine have some things in common.
Meanwhile, back in the hotel room, Benjamin tries to strike up some conversation with Mrs. Robinson. He registers genuine surprise when she tells him that she and her husband don't love each other anymore. His deer eyes-in-the-headlights attitude blends nicely with the jaded and bitter Mrs. Robinson.
Occasionally, this comedy goes off the rails, such as a scene in which Benjamin's mother becomes nearly hysterical during their family psychiatric session. In general, too, one wishes for more attraction between Benjamin and Elaine. Otherwise, why does he go to great lengths to prevent her from marrying someone else? This makes the final scenes seem flat.
Another issue is that Michelle Skinner (Elaine) doesn't follow through with the emotional arc that takes her from following her parents' wishes, to the point where she finds a backbone. Sadly, this also makes the ending less powerful than it could be.
Although one can excuse a community-theater production for skimping on sets and props, set director Nikolaj Sorensen creates a single set that wouldn't even cut it in a high school production. The walls are a bland expanse of fake wood paneling. Even changing out a nightstand and table lamp to distinguish Benjamin's room from the hotel room would help. In contrast, costume designer Kathleen Qiu creates a few stunning, period outfits for Mrs. Robinson and Elaine.
Before the show begins and at certain intervals, we hear brief bits of the Simon and Garfunkel tunes associated with the film. (The audience liked this soundtrack so much that some members began to sing along with the well-known lyrics.)
All the actors perform credibly under Smith's direction. Max Tachis (Benjamin) is by far the standout performer, followed closely by Betsy Kruse Craig as the inimitable Mrs. Robinson. Working together, the cast brings a freshness to this 1960s-era story, with plenty of laughs between the production's more serious aspects.
Cast:
Max Tachis (Benjamin); Betsy Kruse Craig (Mrs. Robinson); Shawn Bender (Ben's father); Raegena Raymond-Brunker (Ben's mom); Mark Novak (Mr. Robinson), Michelle Skinner (Elaine Robinson).
Technical:
Set: Nicolaj Sorensen; Costumes: Kathleen Qiu; Lighting: Kedar Lawrence; Sound: Gordon Smith.