Images: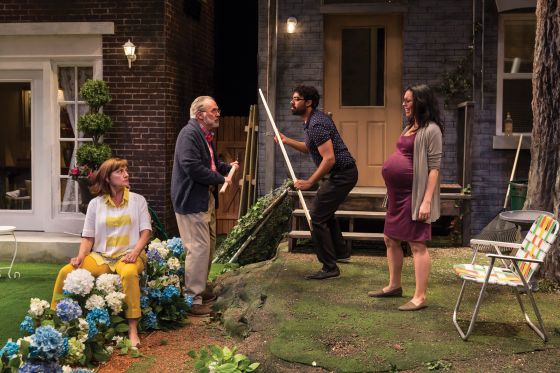 Theater Address:
2433 North Lincoln Avenue
Review:
History provides ample testimony to wars arising over initially trivial differences, so we shouldn't be surprised when our own citizens amplify petty squabbles into full-out conflicts requiring vast investments of time, expense and even violence to resolve. The two couples in Karen Zacarias's minimalist fable, Native Gardens, have their counterparts in spheres as limited as teenagers defending a street corner and as far-reaching as politicians disputing election returns.
There's these two 1906 vintage houses in a Mid-Atlantic city dating back to our nation's very conception, you see, their adjoining backyards divided by a walkway. One has been the home of Frank and Virginia Butley for many decades, the other one has recently been purchased by Pablo and Tania Del Valle, pursuant to rehabbing the neglected residence. Frank is extraordinarily proud of his carefully manicured garden; Tania proposes planting eco-friendly regional vegetation on her patch. Both are happy to be rid of the ugly chain-link fence dividing their domains—but then the contractors discover that the property lines have been blurred by a century of unrecorded transfers.
Landlords experienced in this type of crisis (you might be one of them) know that mutually satisfactory solutions lie in cool heads and unhurried approaches. The Butleys and the Del Valles don't have that option, since the Potomac Horticultural Society and Pablo's law firm bosses are expected to come a-calling the next weekend. Even if the Butleys weren't white (WASP and Polish-American) and the Del Valles, Latinx (Chilean immigrant and United States-born of Mexican ancestry), or the Butleys old enough to have a 40-year-old gay son and the Del Valles expecting their first child, the circumstances alone would be enough to trigger long-dormant suspicions escalating the hostilities to earth-scorching proportions.
Since Zacarias's goal is to highlight the absurdity of allegedly mature adults behaving like stubborn children, the physical damage remains confined to the foliage under scrutiny and an epilogue illustrates how peace is eventually restored. Director Marti Lyons and the quartet of Patrick Clear, Janet Ulrich Brooks, Gabriel Ruiz and Paloma Nozicka maintain a comedic tone, assisted by William Boles' hyper-realistic scenic design and Mikhail Fiksel's sly incidental music (Cat Stevens's "Wild World" as performed by Me First and the Gimme Gimmes, anyone?), to render the Butleys' parochialism and the Del Valles' xenophobia no more threatening than any human foible, when fortuitously nipped in the bud.
Miscellaneous:
This review first appeared in Windy City Times, 6/17