Images: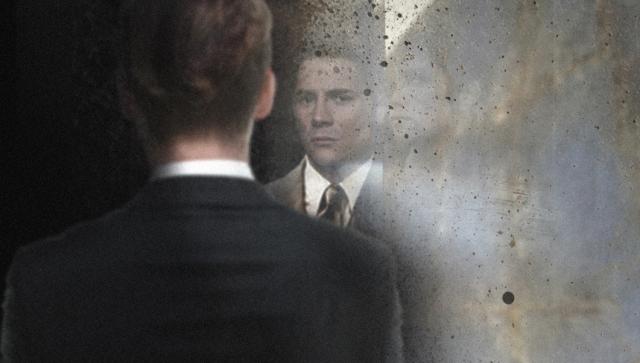 Company/Producers:
Wallis Annenberg Center for the Performing Arts
Theater Address:
9390 North Santa Monica Boulevard
Review:
Michael Arden, Artist-in-Residence at the Wallis, has directed a favorite play of his, The Pride, written by his fellow-Brit, Alexi Kaye Campbell, back in 2008. Its gay theme has resonated with audiences ever since then, with productions taking place in London, New York, and other major cities. Now it's L.A.'s turn to experience the play, in a homegrown version featuring mostly local actors. And what actors they are. The four of them—Neal Bledsoe, Jessica Collins, Augustus Prew, and Matthew Wilkas—work harmoniously together, creating characters who must go through all kinds of changes over a 50-year span, yet still retain an essential core.
What makes the challenge even more difficult is the way Campbell has told his story, with sudden jumps in time and very little exposition. Three of the characters retain their names throughout, even though the people they play are completely different from their earlier incarnations. The fourth character (Wilkas) appears in a variety of guises ranging from a mock- Nazi s&m practitioner to a smarmy aversion-therapist.
Campbell's large canvas needs more room than the Wallis's Lovelace Studio Theater—essentially a black box—can provide, but Arden & Co. work wonders with what they have: a few bits of acrylic see-through furniture serve as the set, Danae Iris McQueen's nifty costumes (which are changed right in front of the audience, with the other actors doing double-duty as dressers).
Although The Pride's narrative is sometimes hard to follow, its main thrust is clear: a retelling of the gay experience in our time, beginning with the 1950s, when gays had to hide their true nature for fear of recrimination (and even imprisonment), and ending in 2008 when it was okay if a bit bizarre to be out in such a free way.
Campbell shows, in a microcosm, just what a tough fight it has been for gays to assert themselves in a largely hostile society, triumph over the hatred of others (and over self-hatred as well). Thanks to the dazzling performances of the four-person cast, and to Arden's expert direction, there is much to be proud about this production of The Pride.
Cast:
Neil Bledsoe, Augustus Prew, Jessica Collins, Matthew Wilkas
Technical:
Set: Michael Arden; Costumes: Danae Iris McQueen; Lighting: Travis Hagenbuch; Sound: Joshua D. Reid