Images: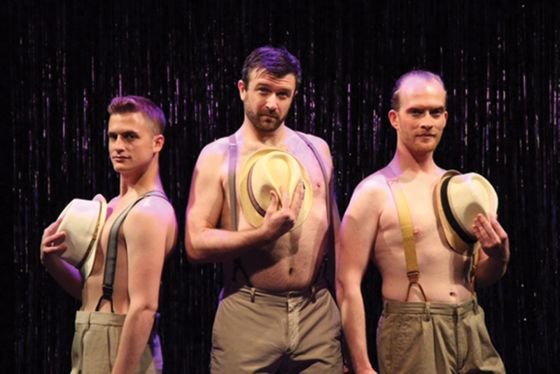 Company/Producers:
Eclectic Full Contact Theater Company
Theater Address:
1229 North Belmont Avenue
Review:
The six males referenced in the title of this musical revue sing—quite capably, too. It's likewise true that the ensemble of physically diverse players—lissome or cuddlesome, bear-hairy or baby-bottom bald, tattooed and tabula rasa—appear totally unclothed for all but perhaps 14 out of the 85 minutes required for the duration of the performance. To be sure, that same description could be applied to a rush-week fraternity party or a post-game locker-room revel, but this 1998 vaudeville promising "No crudity/Just gratuitous nudity" delivers much, much more.
In addition to the novelty of its wardrobe design, the score composed by a baker's dozen of tunesmiths explores the vagaries of self-revelation as practiced in our society—the Jewish celebration of Bris, for example, or the pubescent humiliation of involuntary erections. Cleaning services whose employees perform their domestic chores wearing only the safety gear mandated by their industry—aprons, gloves etc.—are name-checked ("Call me! You look dirty!" our "Naked Maid" teases a spectator), as is nostalgia for rough-diamond masculine icons like Robert Mitchum, now supplanted by exercise-fanatics seeking anatomical perfection. The evening would not be complete without a double-entendre ditty—in this case, extolling the therapeutic benefits of culinary activities like tenderizing steaks (all right, "beating your meat"), or an a cappella baroque-harmony toccata based in synonyms for "penis."
It's not all naughty-bits giggles, however (het bachelorette parties, be warned). "Kris (See What You Missed)" is an AIDS-survivor's apostrophe to his deceased lover, while "Window to Window" recounts the romantic fancies of two apartment-dwelling singles viewing one another from adjacent high-rises. Portraits of the sex-trade industry range from a "perky little porn star from Skokie, Illinois," to a clutch of weary sequin-burned strippers, to aspiring calendar models tracing their art back to Marilyn Monroe and Burt Reynolds.
The Eclectic Theatre Company, though not precisely a gay-focused troupe, demonstrated its embrace of the short-arms-inspection aesthetic in its 2014 production of Richard Greenberg's Take Me Out. Under the direction of David Belew, with continuity assistance provided by Jessica Lauren Fisher's compact choreography and Ty Miles's agile piano bridges, the ensemble currently occupying the front studio at Theater Wit (next door to About Face's Bright Half Life, coincidentally) display warmth and congeniality in quantities sufficiently abundant to put us at our ease immediately and keep us there throughout Naked Boys Singing.
Miscellaneous:
This review first appeared in Windy City Times, June 2017