Images: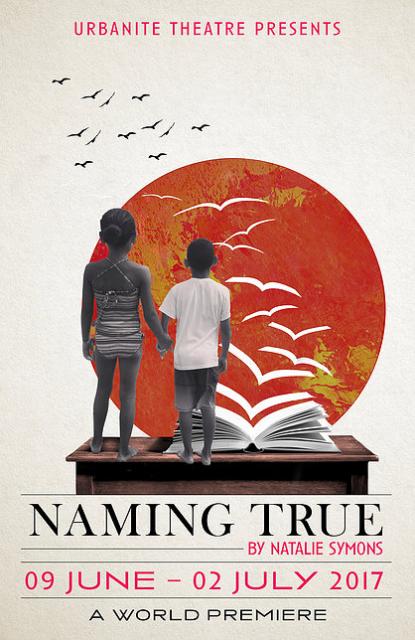 Review:
Amy, a transgender young adult from Seattle, enters out of a tumultuous rainstorm into a Florida motel room to get a memoir from Nell, a black woman, about her growing up in Detroit. Nell's lost her family, been chronically homeless, and wants her manuscript published before she kills herself (or maybe her liver disease does). Because Nell intends suicide, more or less immediate to celebrate publication, Amy tries both to get the manuscript and to keep Nell alive.
Minka Wiltz makes a strong impression as Nell, who has written her sad story on Publix grocery bags yet has money to pay Amy to publish her story (same as the title of Natalie Symons play) on her computer. Nell is foul mouthed, drinks, and spits up blood, but Wintz shows her as vulnerable and maybe changeable.
Alexia Jasmene's Amy is something of a mystery. Why is Seattle important to her background? Why does she keep calling her grandfather? How did she connect with Nell? (It's never clear why she's Nell's ideal publisher.) All that's known is Amy won't take Nell's money or publish her work because then Nell would kill herself. But Amy's character is never really established; she seems to be around just to explain the difference between self identifying as a particular sex and being transgender.
With an almost incoherent plot line and an ending that is unbelievable between the two women after less than a day together, it seems that having a trangender girl play a transgender girl is the raison d'etre for Natalie Symonds' play. The author sometimes also uses nicely poetic language, but for her seemingly to identify with T. S. Eliot is a stretch.
It's been publicized that Daniel Kelly had a lot to do with altering this play, but his direction doesn't make all plausible. It's the skillful actresses who keep audience interest before the odd ending. Still, the play is advertised as 90 minutes long but is actually (mercifully) shorter.
Jeff Weber's set is appropriate, not seedy as one might expect. Joseph Oshry's lights and Joseph Reynolds's sound bring an electric storm into the motel room as well as illuminate the psychological storm within. They almost make it seem a drama is going on rather than a narrative of two people exchanging information about their lives before going off to an unexpected destination.
Cast:
Alexia Jasmene (Amy), Minka Wiltz (Nell)
Technical:
Set: Jeff Weber; Lights: Joseph Oshry; Sound: Joseph Reynolds; Stage Mgr.: Amanda LaForge