Images: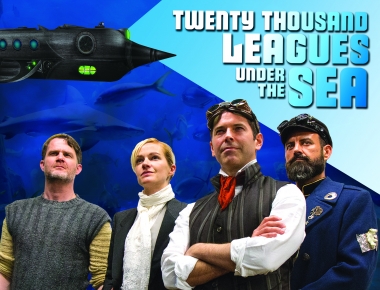 Company/Producers:
Asolo Repertory Company/Kidoon & WYRD Productions
Theater:
Florida Center for the Performing Arts - Mertz Theater
Review:
As Jules Verne did in his novel, two Canadians' multimedia/virtual reality-filled version of Twenty Thousand Leagues Under the Sea brings a union of fiction and science to explore adventures involving the state of our oceans. It is aimed at everyone from third graders to their grandparents and other adults, but after the multimedia novelties wear off, its the kids who'll want to stick with the rest.
Brendan McMahon is a personable Jules, a narrator who sets the interaction rules and works with a TV, projections, and action figures that also get large and projected on background screens and sheer curtains up farther on the set. He also steps into the play as Jules, who gets into the Abraham Lincoln ship to sail with a scientific purpose. Adventure too.
Suzy Jane Hunt convinces as Professor Aronnax (in place of Verne's male character) and Marcel Jeannin is the Harpoonist Ned Land whom they meet when they have to abandon ship in a storm that "lands" them on the Nautilus, a Victorian submarine that transverses the oceans. It is commanded by the powerful Captain Nemo (Srafin Falcon, mysterious and always in charge).
A search goes on for a fabled monster. Each of the characters represents a different motive for the voyage and an individual temperament. Each difference plays a part in the resolution of setbacks (some horrendous, like parts of the vessel being destroyed and crew deaths). Both Jules and Aronnax take their imprisonment by Nemo in stride but the Harpoonist always wants to escape, creating further tension as the ship goes forward.
Nemo is an anti-hero as a captor but a hero as someone who champions the health of the oceans and the right, moral use of treasures buried in them. Though he loves freedom, he tries never to release his captors—but that because he is suspicious of what they would do given their freedom. If all of his philosophy doesn't get lost in the staging effects, this dramatized, adapted play will reflect Jules Verne's concern (like Nemo's) for ecology.
Children may particularly be enthralled by a hurricane, an octopus attack, an underseas Atlantis, and Antarctic effects. Verne's descriptions of the variety of sea life (catalogued in his novel by a character not present in this play) is accomplished by visually having many creatures floating up and at least one "swimming" through the audience. But most adults will be ready, long before the journey ends, to come back to reality.
I did a little survey of kids in the lobby at intermission, all of whom said they really liked the show. But when I asked what each liked most, hesitation followed. It came down to "everything" with gestures—which I interpreted to mean a different kind of live presentation.
Cast:
Brendan McMahon, Sizy Jane Hunt, Marcel Jeannin, Serafin Falcon
Technical:
Set, Props, Costumes: Yannik Larivee; Lights: Itai Erdal; Projections: Deco Dawson; Music & Sound: Richard Feren; Multimedia Project Mgr.: Irina Litvenenko; Puppets: Shawn Kettner & Marcus Jamin; Stage Mgr: Crystal Salverda
Miscellaneous:
Many tickets have already been donated to kids in need and blocks of students in public schools and after-school programs and clubs. Schools and libraries will entertain studies of Verne's book and Victorian times and today's oceanography. Family Days offer low admission prices and little treats.